Available on: Viki, YouTube
Total episode #: 60 
Dumpling-rating scale:  3.75/5

Highly acclaimed for its beautiful cinematography and action scenes, Ever Night 将夜 is an original Wu Xia drama that features an army of A-List actors.
Set in the Tang Dynasty, Ever Night by all accounts is a Wu Xia drama with a heavy dose of fantasy (but not quite Xian Xia – you don't get the heavenly/ghost/immortal aspects). At first I found Ever Night difficult to follow (given its disparate story lines and large cast) but by episode 15 it started to come together.
The protagonist of the story is Ning Que (portrayed by Chen Fei Yu 陈飞宇). Ning Que isn't your typical hero – he is rude, 'dishonorable' and doesn't have the ability to cultivate. Ning Que's family is massacred by General in a quest for power. As the remaining member of his family, Ning Que is intent on seeking revenge.
On his quest for revenge, he saves a girl (and her black umbrella) from the brink of death and calls her Sang Sang. Portrayed by Song Yi Ren 宋伊人, Sang Sang is introduced as Ning Que's maidservant. She cheerful, frugal and deeply committed to Ning Que.
Ever Night chronicles Ning Qie's mission to become a great cultivator and avenge his family. However as the drama progress, it soon becomes clear that it is building up to the coming of the 'Ever Night' and a Season 2. Intertwined in Ning Qie's journey are some pretty epic fight scene — honestly, the best I've seen to date — and a story of self-discovery.
Although I found the story to be original, Ever Night still suffered from a number of issues ever-present in Chinese Drama specifically, pacing and the excessive number of political scenes. Ever Night was just too long and very slow to start. It didn't help that the first 20 episodes unnecessarily focused on the Tang-Yan and the Xiling Immortal Shrine-Fu Zi Academy rivalry. Ultimately, neither really contributed to the main plot — that Ever Night (also known as the end of world) was coming.
The Ning Qie-Sang Sang's relationship has also been the subject of criticism with a lot of people calling it inappropriate and disturbing. If I didn't know that Song Yi Ren is in fact 5 years old than Chen Fei Yu (in real life), I would have also found the transition from sibling-esque to romantic relationship a little creepy too.
For all those who want a recap/summary of the episodes, I've set out my Episode Guide below (starring 🌟 my favourites) but beware there are ‼️ spoilers ‼️ —
Arc 1 | Episodes 1 – 5 | Journey to the Capital
Arc 2 | Episodes 6 – 22 | Ning Qie, the Cultivator 🌟
Arc 3 | Episodes 23 – 31 | Fu Zi Academy
Arc 4 | Episodes 32 – 48 | Life apart for Ning Qie and Sang Sang
Arc 5 | Episodes 49 – 60 | The Child of Hades 🌟
---
Arc 1 | Episodes 1 – 5 | Journey to the Capital 
Ever Night's opening episode is action packed. Importantly, we get introduced to Princess Li Yu of Tang. Following the death of her husband, she is sentenced to be cremated with him (as is the custom in that province). Instead, her loyal maidservant sacrifices herself in her stead and Princess Li Yu escapes.
The Princess hires Ning Que (renowned for being a survivor and bandit-killer) to escort her back to the Tang. Ning Que agrees in part because he has his own ambitions for the capital. Together, the Princess, Ning Que and Sang Sang make the arduous journey back to the capital.
They finally arrive to the capital after multiple assassination attempts. The Princess returns to the palace while Ning Que and Sang Sang are forced to find cheap dwelling. Fortuitously, Ning Que and Sang Sang are able to rent an abandoned calligraphy store from a very odd but powerful landlord. The calligraphy store operates as both a home and a business where Ning Que is able to sell his work.
Also of significance is Prince Long Qing of Yan (the self-claimed Prince of Light). It is hoped that he will avert the coming of Ever Night and bring honor to the creepy Xiling Immortal Shrine and the vulnerable Yan.
---
Arc 2 | Episode 6 – 22 | Ning Qie, the Cultivator 🌟
Ning Que and Sang Sang's landlord (Chao Xiao Shu) is indeed mysterious. After spying on Ning Que, he hires him to avenge his brother who also happens to be Ning Que's best-friend. Together they take on hundreds of assassins in an epic battle in Episode 6. They are finally rescued by the powerful Talisman High Priest and Chao Xiao Shu disappears.
Following Chao Xiao Shu disappearance, Ning Que manages to enter the Academy after a series of examinations. Ning Que initially struggles to fit in among the sons and daughters of noblemen however wins them over when he is chosen to be the 12th disciple of Fu Zi.
His win against Prince Long Qing was a true shock and Ning Que becomes instantly famous. In addition to being chosen as Fu Zi's 12th disciple, the Talisman High Priest chooses him to be his successor.
The road to becoming Fu Zi's disciple was not easy. Along the way he was attacked by fire phoenix (which opened his cultivation points) and Grand Master of Light. Always by his side is Sang Sang. She is his constant supporter and is always there in his darkest moments.
---
Arc 3 | Episodes 23 – 31 | Fu Zi Academy
The Yans order Ning Que be killed after they are humiliated by Prince Long Qing's defeat. The Yan accomplices's manage to capture Ning Que but once again he saved by Sang Sang's prowess and resourcefulness.
After Ning Que is released, he studies under both Fu Zi and the Talisman High Priest. Ning Que quickly becomes very powerful and his calligraphy sells very well (which makes Sang Sang very happy).
The rest of the world is planning and strategising how to prepare themselves for the coming of 'Ever Night'.
---
Arc 4 | Episodes 32 – 48 | Life apart for Ning Qie and Sang Sang
Ning Qie and Sang Sang bid each other farewell. Ning Qie accompanies the Hill Sect to deliver much needed supplies to Xiling. His task is to protect them while also acting as the eyes and ears for the Tang. Along the way, they are attacked by the Xiling (who are looking to frame them) and Ning Qie recognises one of their attackers as the man who slaughtered his family/tribe whom he later kills.
During this time Mo Shan Shan (the Hill's Sect Leader) falls in love with Ning Qie. However Ning Qie begins to realise his romantic feelings for Sang Sang when challenged by Prince Long Qing. Prince Long Qing after being defeated/shot by Ning Qie loses his ability to cultivate and status.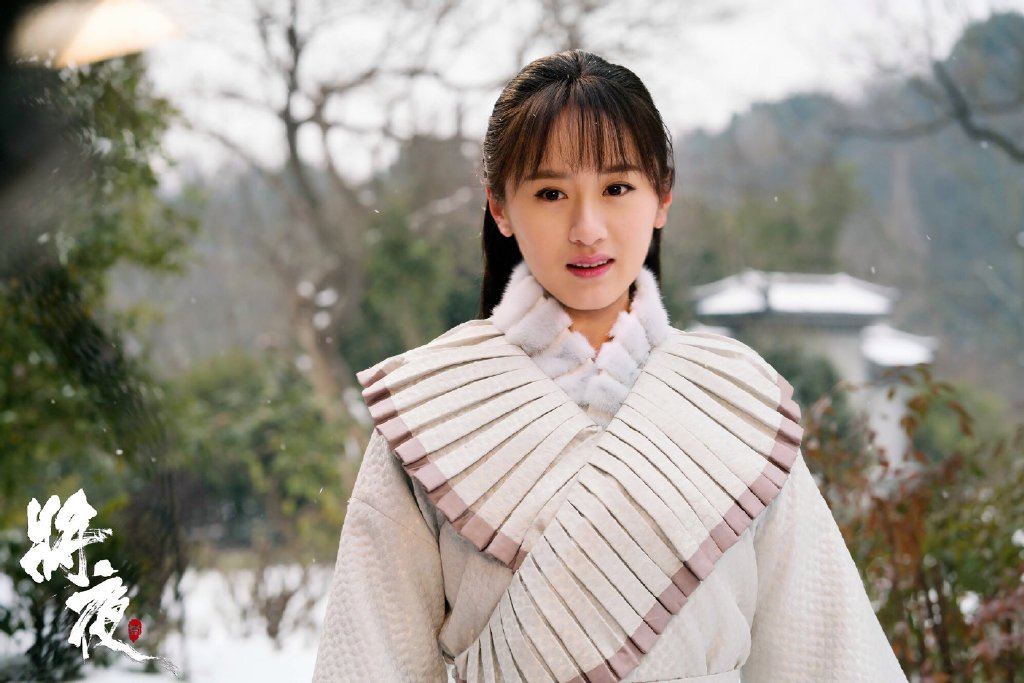 Meanwhile, the Grand Priest of Light takes Sang Sang as a student believing she is the child of light. Their relationship dynamic is one of my favourites (along with Chen Pipi and Ning Qie's). Yan Se — the Grand Priest of Divine Talismans — later finds him and confronts him about all the people he killed 15 years before in in his quest defeat the darkness (this is the massacre Ning Qie survived).
Unable to change each other's world perspectives both Grand Priests decide on mutual destruction and let the younger generation handle whatever comes in which ever way they think best. Sang Sang is asked to be a witness and collect their ashes (episode 41).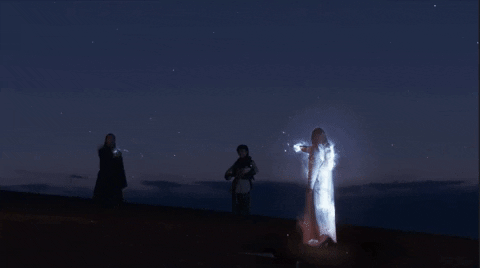 Soon after, Ning Qie, accompanied with Mo Shan Shan returns to the capital. Sang Sang distressed with his new companion — and confused with her romantic feelings towards him — runs away to her newly found parents, who happily embrace her.
Ultimately Ning Qie chooses to be with Sang Sang and dumps Mo Shan Shan in episode 48. It was a difficult decision for Ning Qie particularly because there were multiple parties (including the entire Fu Zi clan) with a vested interest in who he choose to be his companion. During this difficult time, it is revealed that Ning Qie is spellbound with the demon spirit — which is suppose to be a bad thing but also means that Ning Qie has an incredible (although uncontrollable) level of strength.
---
Arc 6 | Episodes 49 – 60 | The Child of Hades 🌟
Ning Qie's growing strength causes him to kill kill Dao Shin accidentally in battle. Fu Zi punishes/protects him by sending to reflect on his conduct in isolation. In isolation, Sang Sang visits him and reveals that she is also able to cultivate (albeit she only uses it for cooking).
While Ning Qie is isolation, Sang Sang becomes ill and is captured by the XiLing Sect. In episode 51, Ning Qie rescues Sang Sang (proposes to her) and finally defeats Yi Qing in an epic battle. The Xi Ling Sect also reveal their motivation for abducting Sang Sang — its because she is the Grand Master of Light's heiress and is able to wield an immense amount of strength which they wish to utilize. We get a heap of Ning Qie-Sang Sang moments up until in episode 58 and particularly in episode 55.
Ning Qie is finally able to avenge his family's massacre in episode 59. He also discloses that he is not the son of a great general but is from a lowly family — he reasons that just because his family were of low birth it does not mean that they are not worthy of vengeance.
In the finale, an epic battle between Ning Qie and Xia Huo takes place. Having reached the ultimate level of cultivation Xia Huo easily overpowers Ning Qie. In Ning Qie and Sang Sang's moment of desperation, Sang Sang emits a powerful light and transfers her power to Ning Qie, which renews his strength and energy.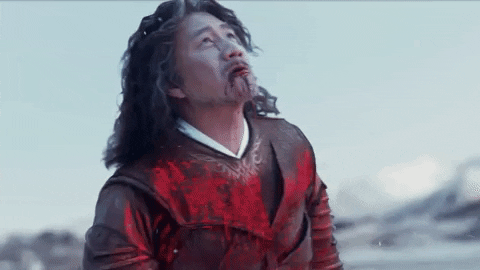 Releasing who Sang Sang is, Xia Huo realizes that he has been double-crossed by Xi Ling Sect. Xia Huo's parting words to Ning Qie is that the real enemy is the Xi Ling Sect and before he blows up, he transfers some of his cultivation to Ning Qie. Sang Sang protects Ning Qie from the blast caused by Xia Huo's self-destruction by using her body. It looks like she might have died, although I highly doubt it.
The final scene is an artificially powered up Long Qing (after Ning Qie destroyed his cultivation points) ready to seek his revenge against Ning Qie. Naturally, ending as a cliff-hanger, I have a lot of questions like who is the Child of Hades and is the Princess Li Yu one of the good guys? I anticipate these will all be addressed in season 2 which is already in the works with Dylan Wang 王鹤棣 replacing Chen Fei Yu 陈飞宇 as Ning Qie.
Will you be watching Ever Night (Season 2)?