Available on: Viki
Total episode #: 16
Dumpling-rating scale:  3.5/5

Reuniting Yoo In-na유인나 and Lee Dong-wook이동욱, Touch Your Heart  진심이 닿다  is a predictable but pleasant romantic comedy. Yoo In-na portrays out of luck super-star Oh Jin-shim/Oh Yoon-seo trying to make a comeback after being embroiled in a scandal with a creepy chaebol.
By chance, Oh Yoon-seo meets an eccentric scriptwriter willing to star her in a guaranteed hit drama on the condition that she works as a legal secretary for three months. With her hands tied, Yoon-seo complies and works under the aloof workaholic Kwon Jung-rok… romance ensues soon after.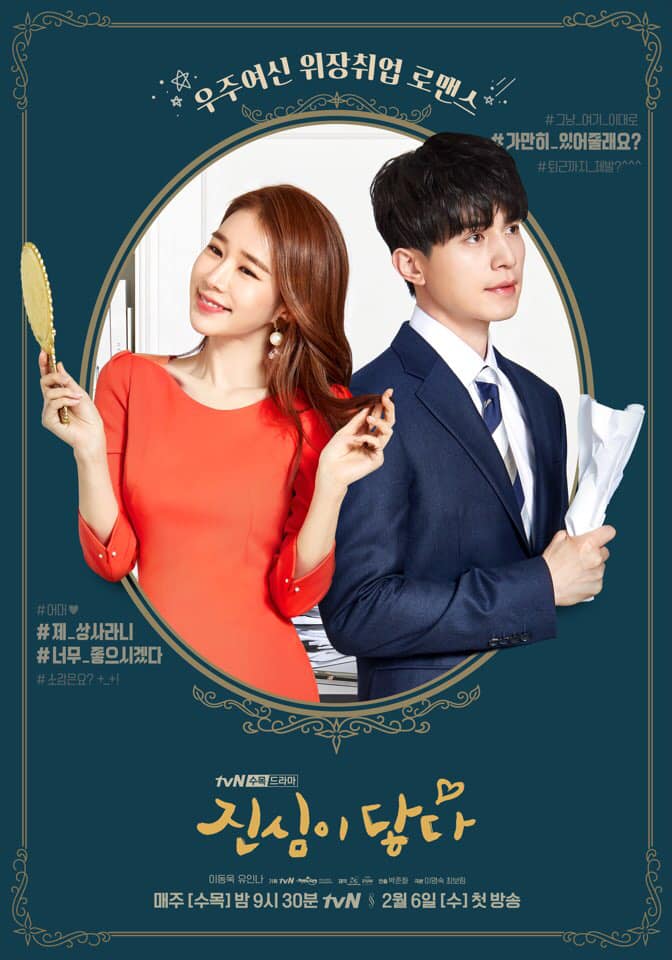 Yoo In-na and Lee Dong-wook's roles are reminiscent of their previous supporting-roles in hit drama 'Guardian: The Great and Lonely God' (also known as, Goblin) — Lee Dong Wook plays the oblivious lawyer entirely focused on his work. Meanwhile, Yoo In-na plays the quirky, somewhat naive, social-media crazed actress.
The plot on the other hand is a cross between My Love from Another Star and What's Wrong With Secretary Kim — although it doesn't do either quite as well. It isn't as funny or light as What's Wrong With Secretary Kim nor is it as warm and romantic as My Love from Another Star. Distinct from both, Touch Your Heart omits the tragic second male lead role (saves us the heartbreak).
I can't say I loved this drama — it was anything but original and had a ridiculous amount of product placement (probably the most I've seen to date). The first episode with Oh Yoon-seo imagining herself as part of the cast of Kdrama sensation, Descendants of the Sun, couldn't more accurately encapsulate what this drama was trying to achieve — recreate a hit off the back of other hit dramas.
And the product placement… it was problematic. A lot of scenes were created for the purpose of  a product — not cool.  A little part of how I feel about kdrama died as soon as Lee Dong-wook gave his 5 minute spiel about Chanel's new male make-up line.
That being said, I will admit Yoo In-na's wardrobe was divine and will at some point post about it (hopefully it won't take me as long to get that post out). For those interested in the story line over products, I have set out below my top 5 episodes but beware there are ❗spoilers❗.
---
Episode 2 |

Yoon-seo

decides to get serious
Pride damaged, after creating a bit of mess at work, Yoon-seo decides to take her job as a legal secretary more seriously. Even as she does, Jung-rok is still cold toward her, leaving her disheartened. She laments about his treatment of her after a couple of drinks with her new colleagues and is shut down by Jung-rok again — who lets her fall, in her drunken stupor, while he is attending to his clients. Jung-rok's night doesn't get any easier either. He comes back from work to find his college friend, Se-won, announcing that he is moving in with Jung-rok.
The next day, Yoon-seo decides to up her game and be the best secretary ever. She impresses Jung-rok by ably using the phone system – thus commences his reciprocal feeling. A secondary love arc forms between Attorney Choi and Dan — uncanny parallel with What's Wrong With Secretary Kim here. By the end of the episode, Jung-rok 'saves' Yoon-seo from an irate driver, they share a lovely meal together at local restaurant and finally a hug.
---
Episode 7 | C

onfession Time
Yoon-seo and Jung-rok's relationship escalate and it is time to make it official! The only problem is Jung-rok's lack of romance expertise and Yoon-seo's expectation for such. Yoon-seo drunk-dials Jung-rok, after being disappointed by his inattention, and confesses that she loves him and has been desperately waiting for him to ask her out.
The next day, Yoon-seo regret her decision to call Jung-rok and calls in sick. Jung-rok reminded of Yoon-seo decides to find her at her favourite restaurant for chicken feet. A game of cat and mouse ensues. When Jung-rok finally catches up to her — he hands her a letter asking her out. And she says, Yes!
In other happenings: Yeo-reum (Jung-rok and Se-won's ex-love interest) is hospitalized for stress-induced gastritis, Attorney Dan is in love with young waiter and Yoon-seo meets rival Hwang Yeon-du.
---
Episode 8 |

Jealousy Time
The lack of a second male lead does not preclude Jung-rok from experiencing moments of jealously. Although officially dating, a public announcement is yet to be made, and the world still thinks they do not get along. On those lines, Attorney Dan reveals to Yoon-seo the messy love triangle between Jung-rok, Se-won and Yeo-reum.
Aggravated and jealous, Yoon-seo goes to confront Jung-rok, only to meet Se-won! Se-won reassures Yoon-seo and she leaves elated. The next day a couple of new interns arrived who are both in awe of Yoon-seo and its Jung-rok's turn to become jealous. They reconnect and share some lovely moments on a work-related get-away.
Also in this episode: Attorney Dan finds out her boyfriend has been using her for legal help and Attorney Choi comes to her rescue and Se-won reconnects with Yeo-reum.
---
Episode 10 | The return of the stalker
Jung-Rok and Yoon-seo's relationship goes from strength to strength (as does Attorney Choi and Dan's). As her time at the law firm slowly comes to an end (with only a month to go), Jung-Rok and Yoon-seo have to decide what next — they start with Yoon-seo inviting Jung-rok over to her apartment.
Although they share many tender moments in this episode — including Jung-rok defending Yoon-seo against his father and later introducing her as his girlfriend — it ends on a foreboding note with the return of Yoon-seo's stalker/crazed fan, Gang-joon…
---
Episode 16 | Happily ever after
With Gang-joon well and truly behind bars, Jung-rok and Yoon-seo overcome their differences and thrive in their respective fields — with Jung-rok doing well at work (as always) and Yoon-seo starring in a hit drama.
The pair get their happily ever after and together show up on the red carpet. As Yoon-seo makes her return she thinks, "My heart, and my sincerity. Will others see it". Jung-rok thinks back "I'm sure your sincerity will reach the hearts of others. Just like it reached me."
Telepathy is taking a relationship to a whole new level and we finally understand the meaning behind the title. The drama ends neatly and it's a happily ever after for all our main couples — Yeo-reum & Se-won and Attorney Choi & Dan all together and very much in love.
Touch Your Heart is rated highly on Viki (9.7 from ~ 18,700 reviews) but I confess — if it isn't obvious —  it wasn't my favorite. The contrived story line and heavy product placements really turned me off. I would however really like to know how others felt about Touch Your Heart.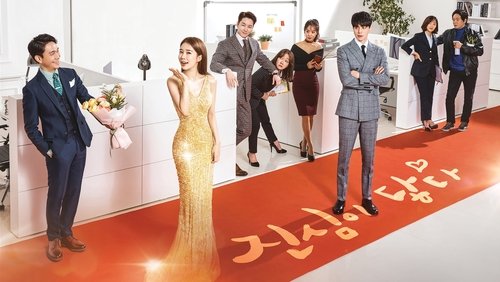 What did you think of Touch Your Heart?