Available on: Viki
Total episode #: 41
Dumpling-rating scale:  2.5/5
Starring Yang Zi 杨紫 and Li Xian 李现, Go Go Squid!亲爱的, 热爱的  is a combination of state propaganda and a muddled exploration of college relationships. The most distinct feature of Go Go Squid! was its pacing — it was slow. Excruciatingly slow. Yes, even for a CDrama.
In addition to issues with pacing, the premise of the drama was problematic (and bizarre) — the world of Go Go Squid! assumes that cyber-hacking is an international competitive sport with a fan-base comparable to basketball or football. Han Shang Yan is the jaded 'leader' of Team K&K and forever second best to Solo and his Team SP.
The drama begins with Han Shang Yan suffering another defeat. He proceeds to throw a hissy fit, ditches his team (which he is the apparent 'leader') and retreats to an internet bar. Here he meets child-like supposed young adult Tong Nian (a genius IT programming student and popular cover singer, whose stage name is 'Little Squid' — hence the English drama title). It is love at first sight for Tong Nian and she makes it her life mission to romantically pursue Han Shang Yan…
Aside from following Tong Nian's awkward pursuit of Han Shang Yan, the drama explores the reasons for Han Shang Yan's reoccurring mood-swings and the importance of nationalism and cyber-hacking. At some point, it dawned on me that the main plot was actually Han Shang Yan's relationship with his cyberhacking 'comrades' and Solo.
Upon this realization, I  felt cheated and misled — I watched this drama on the promise that is was a romantic comedy starring Yang Zi, not a bromance gone wrong! The leads in this drama were Solo and Hang Shan Yan, there was no room for Tong Nian. Tong Nian was a side show and putting her front and center of all the advertising material does not accurately reflect the reality of Go Go Squid.
I confess — a large part of me actually finishing this drama was so that I could publish this blog post (I had already started it). And it has taken me a while… I can't say I liked any of the characters — maybe Solo, Han Shan Yan's step mother? Both seemed mature and sensible, particularly in contrast with Han Shang Yan who is the epitome of what it means to be self-obsessed and self-serving.
Honestly, unless you are a fan of Yang Zi  — which I am, but she has most definitely been typecast — I wouldn't recommend this drama —  to assist with navigation and the skipping of filler episodes (which was most of this drama), I have set out an episode guide below:
Arc 1 | Episodes 1 – 13 | Love at First Sight
Arc 2 | Episodes 14 – 34 | Love and Cyber-hacking
Arc 3 | Episodes 35 – 41 | Reunions
---
Arc 1 | Episodes 1 – 13 | Love at First Sight
Now that is has come to summarising this drama — I am a little lost for words, because honestly — not much happens…
In addition to Tong Nian's interesting fashion choices (which mostly consists of pastel pyjamas), she also chooses the strangest way to woo much older Han Shang Yan (which mostly consists of stalking).
After multiple misunderstandings including a family set-up gone wrong and a case of mistaken identity, Han Shang Yan final decides that he doesn't think Tong Nian is a total pest and permits her to make secret visits to him at Team KK headquarters. Not quite sure where Tong Nian's dignity is at this stage but they start fake-dating in episode 7 and break-up in episode 13.
While Tong Nian only has one thought on her mind (Han Shang Yan for those who couldn't guess), Han Shang Yan has much bigger fish to fry — this includes establish Team KK HQ in China and training his team. The 'team' — far from a dream team — importantly includes star player Wu Bai, cool glasses guy Grunt and sensitive Demo (there are others but they aren't very important, don't get much air-time and honestly, I am not even sure they have names). Although they train like a basket-ball team, their actual sport is hacking — which I'm sure was part of China's national agenda, get young people interested in cyber-hacking.
Han Shang Yan's mission is to defeat reigning champions Team SP. Turns out that the 'leader' of Team SP is a guy called Solo. Solo use to lead Team Solo — a team that Han Shang Yan use to be on.
Its not clear what exactly happened that lead to the breakdown of Team Solo — but it is obvious that whatever it was Han Shang Yan feels betrayed by Solo and the rest of the team which includes star female player and Solo-love interest Appledog/Ai Qing and failed player Xiao Mi.
---
Arc 2 | Episodes 14 – 34 | Love and Cyber-hacking
Literally this whole arc was filler — nothing significant happens…. Tong Nian and Han Shang Yan get together (for real) in episode 15, break up in episode 22 and then get together again in episode 30. It all has to do with Tong Nian's mother's disapproval of Han Shang Yan but after a family trip to Su Zhou they reconcile and get back together — yep, nothing memorable.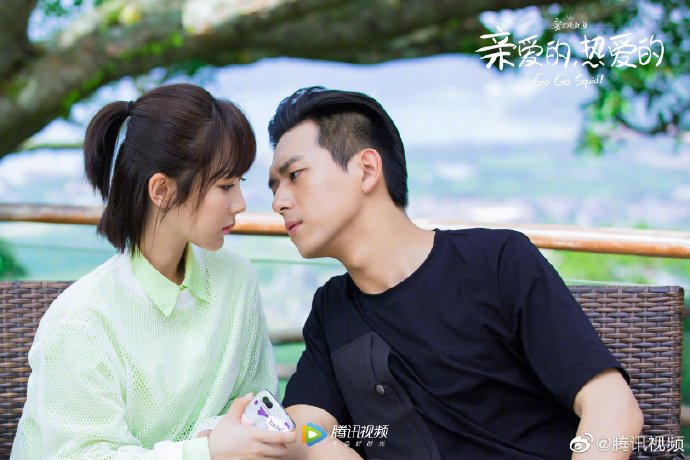 In terms of Han Shang Yan and Solo — tensions only escalate them as Team KK continues its second-place streak to Team SP. We are also introduced to —
Xiao Ai, Solo's sassy daughter who is revealed to be suffering a hearing issue (although she isn't deaf). Like most people, Xiao Ai takes a liking to Tong Nian (probably because they act like they are the same age) and a strong dislike to Han Shang Yan.  (turns out he is a single dad). Xiao Ai runs away from home on more than one occasion and has a stained relationship with her biological mother, Su Cheng — who abandoned her when she was just a baby.
Nan Wei and Su Cheng, a married couple who both happen to be high level personnel of Team KK. Xiao Ai is Su Cheng and Solo's daughter (although Solo has been raising Xiao Ai alone) and Nan Wei's is Han Shang Yan's closest friend.
Han Shang Yan's step-mother, even after Han Shang Yan's father died, his stepmother is revealed to have taken care of him like her own son, supported him after the fall out with Team Solo and continues to financially support him. All she want is for Han Shang Yan to spend some time with her and attend her wedding as her son.
Shang Yan's step mother is absurdly stylish and there was a side-story involving a bracelet which Shang Yan was suppose to pick for her but instead gifted to Tong Nian. By Shang Yan returning the money to his step-mother causes him and the club financial difficulties — somehow in some unexplained way their constantly referenced financial difficulties never materialize and Shang Yan is able to maintain a decked out clubhouse, a stunning apartment and a fancy car.
Xiao Mi and Sun Ya Ya's relationship — of all the relationships, this was the most awkward and painful to watch. Xiao Mi is truly a pitiful character — a sub-par player loyal to Solo, who longs for glory but find himself constantly missing the mark and working in his family grocery.
Solo and Han Shang Yan try to out do each other by treating Xiao Mi as a charity case and its weird — its like they want to prove who the better leader is but who can help the worst player out the most.
Although Xiao Mi's story is designed to elicit some sort of emotional response, it's contrived and makes things really awkward to watch. Sun Ya Ya — Tong Nian friend and fangirl — makes things slightly better but this wasn't a couple I could get behind, Xiao Mi just has too many issues he needs to resolve before he would be ready for a relationship.
Wu Bai and Appledog — on the subject of awkward pairings, it is revealed that Wu Bai has a massive crush on Appledog (spanning over a decade). Wu Bai pursed the hacking career in order to impress Appledog and desperately seeks her approval — very unexpected.
This arc is designed to build up to the next arc where is apparent resolution to the long-built up tension between Han Shang Yan and Solo…
---
Arc 3 | Episodes 35 – 41 | Reunions
We finally find out what actually happened between Han Shang Yan and his cyberhacking buddies —
Team Solo was at the top of their game when Su Cheng informs Solo that he is the father of her daughter, Xiao Ai. Xiao Ai has a hearing problem and Su Cheng cannot keep up with her medical bills. Out of desperate, Su Cheng leaves Xiao Ai with Solo and disappears. Appledog, who is now in a relationship with Solo, isn't happy with the situation. The tension between Appledog and Solo escalate and ultimately cause the breakup of Team Solo. All this happens right before their almost assured national champions win. Losing the national champions devastates Shang Yan and he subsequently retreats to Europe.
Seriously… how selfish is Han Shang Yan — did he want Solo to abandon his child? Han Shang Yan — you are playing a sport and NO sport should ever take precedent over a child's wellbeing. The fact that Shang Yan is upset by something like this is truly pathetic. At this stage, the only question I have for Tong Nian (and the world, because I know this drama has made Li Xian extremely popular and his currently #3 on iQIYI 'influence board') — what do you even see in him?
Honestly, I'm not even happy that Shang Yan and Solo resolved their issues and reconnected as 'brothers'. Its sad to think that the people around Shang Yan enabled his bad behavior and convinced him that his reasons for being mad were legitimate.
In the end — things end as expected, KK finally win an Asian Championships (with SP coming in third). Tong Nian proposes to Han Shang Yan right before the game and the drama finishes with them together, and expecting a family. Awkward and contrived — much like most of the drama.
What did you think of Go Go Squid!