Available on: Netflix
Total episode #: 6
Dumpling-rating scale:  4/5
Triad Princess 極道千金, starring Jasper Liu 劉以豪 and Eugiene Liu 劉奕兒, has officially made it onto my favourites/re-watch drama list. With a phenomenal cast, high production value (thank you, Netflix funding) and excellent pacing, I didn't even mind that about 25% of the drama was in Taiwanese. In fact, I thought the heavy use of Taiwanese added to the overall story!
Now to the story —  An Qi (portrayed by Eugiene Liu) is the uncouth daughter of a powerful Taiwanese triad boss. An Qi has been unlucky in love and secretly harbours a longtime crush on megastar Yi Hang (portrayed by Jasper Liu — seriously, how appropriate).
As fate would have it, Yi Hang's manager is looking for a female bodyguard to protect fellow megastar and Yi Hang's faux girlfriend, Ling Yun. In spite of her father's disapproval and impending marriage to the heir of Hong Kong's largest triad, An Qi begins to work for Ling Yun in the hope of meeting Yi Hang. What follows is a short story (very short) about love, friendship and family…
I loved it. Seriously. Netflix — please don't pull out of the Chinese-language drama production market. That being said, I did have a few of qualms with this drama:
First — the lack of Original Soundtracks. It is quite typical for both Korean and Chinese language dramas to have a solid OSTs. These soundtrack are an important feature of the drama — some are associated with a specific character, while others with defining moments. Princess Triad didn't have an OST and a lot (if not all) of the background songs were in English — this was a little disappointing and their absence was noticeable.
Secondly — the ending. No spoilers but (again) typically, good Korean and Chinese language dramas make it a point to 'end' dramas with a very solid and final ending. No questions left to ask and no ambiguity.  I understand there are commercial motivations for ending with a cliff-hanger and this is expected by Western viewers — but its not really Asian style (and when there is ambiguity, it is criticized — see for example, Princess Agents

and

I Will Never Let You Go

). In this type of drama (romantic-comedy), we expect the full shebang — assured togetherness, wedding, babies, everything! (see for example,

Strong Girl Bong Soon

and

What's Wrong With Secretary Kim

). Netflix – please, for next time.

Thirdly — totally selfish blogger complaint, but how does Triad Princess have no stills? Chinese dramas always have about a hundred accompanying stills, yet Triad Princess has none. Zero. What?
As this is only Netflix's second Mandarin drama (after Nowhere Man, which was a total flop), I was really impressed and am excited to see what Netflix has in store for us next. I would love to see a season 2 and really encourage everyone to watch it on Netflix to give it that chance. For spoilers and a full episode recap (⭐ next to my favorites), see below —
---
Episode 1  |  Shing Bwei
An Qi discovers that her boyfriend has been cheating on her and sends her father's henchmen — her father being the head of Taiwan's largest triad — lead by her childhood bestie/partner in crime Ah Gui to abduct him and throw him into the river (their favorite thing to do).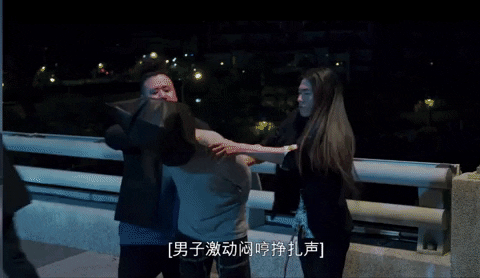 Only hiccup — she abducted the wrong guy. Instead Yi Hang is thrown into the river. An Qi upon arriving home, An Qi discovers two things —
Kuang Jie, Ling Yun and Yi Hang's manager has approached her father to request that she act as Ling Yun body guard, as she has been receiving a series of death threats; and
her marriage to the heir of Hong Kong's largest triad, Yan Bin, has been expedited.
In order to escape the arranged marriage and have a chance to meet Yi Hang, An Qi runs away and finds employment as Ling Yun body guard — this is of course after a massive showdown with her father's henchmen and display of her phenomenal gun skills for Kuang Jie.
Thoughts:  The dynamic trio — Ah Gui and his pals — add that much appreciated Taiwanese flavor to this drama. Their consistent use of Taiwanese with An Qi convincingly portrays her as that rough and tough daughter of a triad.
---
Episode 2  |  Elephant Studio
In this episode, An Qi has to convince Ling Yun that she is fit to be her assistant/body guard (Ling Yun has people attempting to blackmail her but won't go into any details). An Qi spends the day following Ling Yun: going on set with her, saving her from herself and finally goes back with her to Yi Hang apartment, which is filled with stuff toy elephants/elephant themed stuff!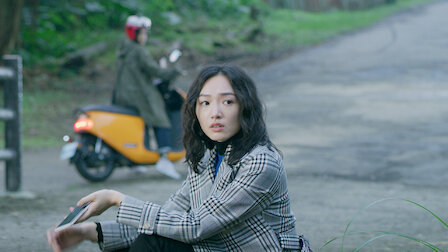 Yi Hang walks into An Qi having the time of her life and An Qi runs off mistakenly taking Yi Hang's script called the "Black Wars" — about the Taiwan underground. Upon discovering An Qi has taken her script, Yi Hang goes to see An Qi, only to find her on the run from her father's men. On An Qi's instruction, Yi Hang and An Qi drive away together…
Thoughts: This has all the feels of background/filler episode. Main takeaways are — Ling Yun has a dark past (heavily implied to be drug related), Yi Hang is working on a secret script and An Qi's dad is adamant on the arranged marriage.
Right at the end of this episode — An Qi and Yi Hang FINALLY meet, seriously — it took a while. This all usually happens in episode 1. I was getting a little concerned, particularly because this drama is only 6 episodes long. Anyhow they've met — now to see how they build chemistry.
---
Episode 3  |  The Scumbag ⭐
The pace picks up in this episode — after Yi Hang rescues An Qi from her father, she receives a call about Ling Yue. An Qi goes to Ling Yue's rescue only to find that she doesn't want to be helped…
After a bit of a back and forth, Ling Yue comes clean to An Qi and tells her that before she was famous, she was a call-girl who frequented the clubs. There she met a drug dealer called Jin Guo, who later became her boyfriend.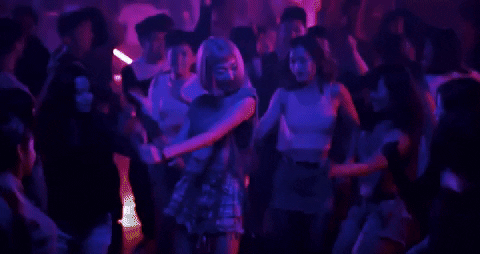 Although, she was heavily into drugs, she became pregnant. At the time she believed Jin Guo when he said that he support her and their unborn child (called Hao Hao). However, she caught him cheating on her and took revenge by beating him up with glass bottle and subsequently served prison time. When Ling Yue was freed, Jin Guo left with her Hao Hao, only to get in contact with her after she became a megastar.
Another backstory revealed in this episode is Kuang Jie's — her and husband split (even though they obviously still love each other) after the accidental drowning of their son.
An Qi and Yi Hang also grow closer in this episode (thank goodness – I mean we are half way), when An Qi stands up for Yi Hang when a third rate actress and director subject him to physical abuse.
The episode ends with Ling Yue calling Yi Hang to tell him that An Qi likes him.. a lot — way to cut to the chase!
Thoughts: Loved An Qi's dad video and An Qi humiliating the scumbag director — probably my favorite two scenes of the entire drama. The backstories — felt a bit like filler but necessary because you can't have a whole drama dedicated to just two people, right?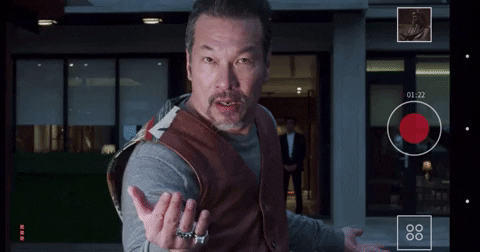 ---
Episode 4  |  Let Me Tell You a Secret ⭐
Things really start to heat up in this episode! An Qi's dad receives a call from Hong Kong about An Qi's impending marriage and the search for An Qi intensifies.
This time, Ah Gui participates in the search (instead of protect/informing An Qi about the search) but only to fall in love at first sight with An Qi's non-triad bestie. After pulling-off another miraculous escape, An Qi calls Yi Hang to stay over at his place.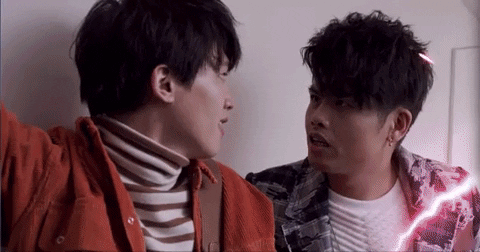 An Qi and Yi Hang connect over video games and finally Yi Hang's script and the hopes he has for himself (which An Qi supports, seems like she is the only one — where is his family?). Anyway, Yi Hang is so touched that he makes the first move and kisses An Qi, she reciprocates… ❤ ❤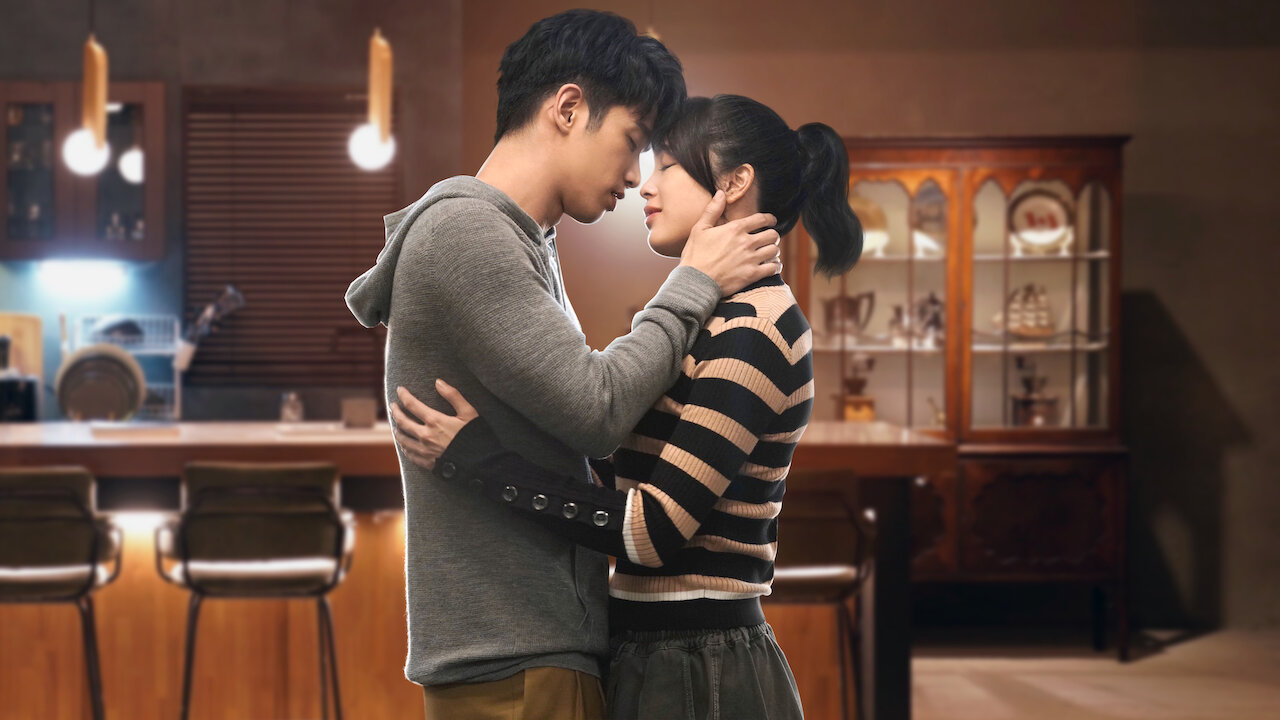 In the morning, after an awkward breakfast, Yi Hang asks An Qi to be her girlfriend and she accepts. Little do they know they are not only being watched by An Qi's pals but also the paparazzi.
After the paparazzi's failed attempt to blackmail Cosmo, he decides to destroy Cosmo instead and publishes the story of An Qi and Yi Hang — not only does the whole world now know about An Qi and Yi Hang but also An Qi's dad.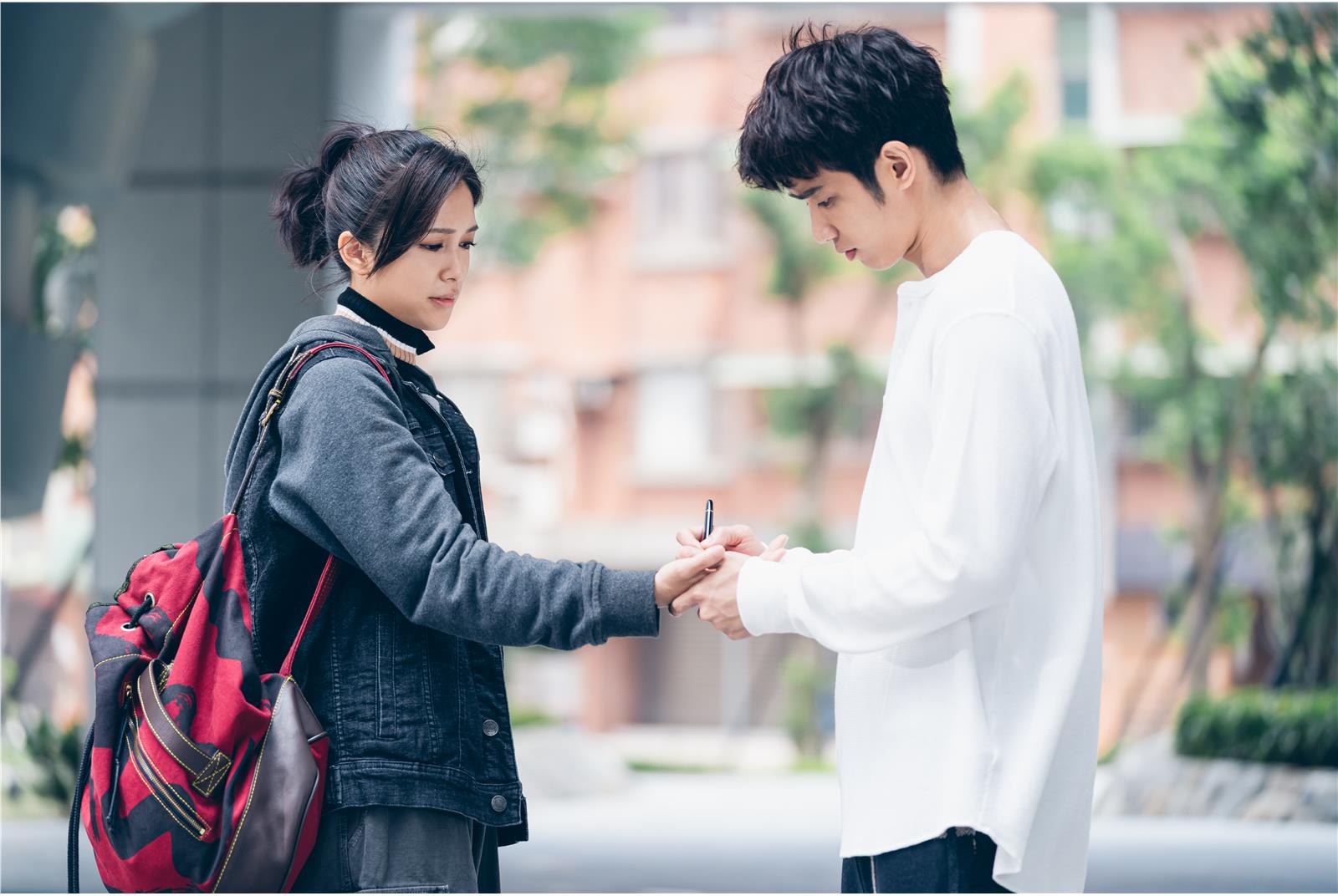 Thoughts: Yi Hang and An Qi have such good chemistry!! This drama is  now moving a little too fast for me. I wish a lot of the scenes/relationship dynamics could be explored a little bit more. I mean a typical Cdrama would have at least extended this content out over 3 episodes!
---
Episode 5  |  We had a deal
The news of their relationship causes Yi Hang to be abducted and questioned by An Qi's dad. Yi Hang finally finds out An Qi is the daughter of Taiwan's largest triad. However, still in love, Yi Hang promises An Qi's dad that he is sincere and that he plans to tell the world that An Qi is not his mistress but only girlfriend.
With every good intention, Yi Hang organises a press conference (with the support of Ling Yue). But after Kuang Jie has a couple of words with him (about An Qi's background, protection blal blah blah)… he pulls out and maintains that Ling Yue is his girlfriend.
An Qi devastated by Yi Hang's seeming abandonment decides to go back home, only to be rescued by Yan Bin — who is no longer that chubby, awkward kid from 15 years ago. Both An Qi and Yi Hang are very upset — An Qi is no longer that bubbly girl and Yi Hang get arrested over an elephant slide him and An Qi connected with.
In advance of their impending marriage, Yan Bin and An Qi get to spend some time together where An Qi makes it very clear that she isn't interested in Yan Bin. An Qi must have made a big impression on Yan Bin because he can't seem to get over her and their childhood promise to each other — that they would marry each other if he lost weight, which he has, which means they have to get married.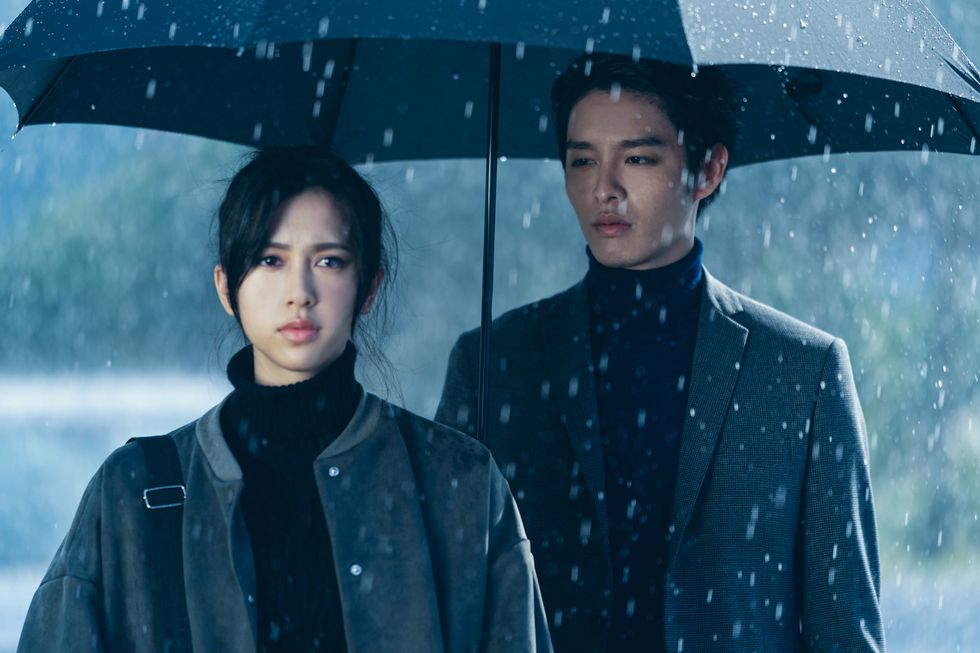 Despite Yan Bin's charm, Yi Hang is still #1 to An Qi but before she is able to meet/reconcile with him, she receives a call from Jin Guo, who has kidnapped Ling Yue.
Thoughts: I really wish we could have seen more An Qi – Yi Hang moments as a couple, it seems a little too rushed and I'm not convinced they are actually so in love — I mean it feels like they've only known each other for a couple of days!
Also, Yi Hang seems to be making a lot of bad decision — he seemed so resolute with announcing to the world about him and An Qi to only all of sudden pull out because Kuang Jie had a few words with him. And whole fight with civilians regarding the elephant slide… no comment. What I am enjoying is that Yan Bin has finally made an appearance and the wait wasn't for nothing!
---
Episode 6  |  The Fortune ⭐
An Qi rushes to save Ling Yue. She manages to defeat Jin Guo but not before sustaining a semi-serious knife wound. Lucking, Ah Gui arrives to give An Qi the support she needs. However, An Qi adamant on meeting Yi Hang rushes to see him only to get into  motorcycle accident.
An Qi ends up in hospital with Yan Bin by her side. Yi Hang comes to see her but instead he exchanges words with Yan Bin. Following his conversation with Yan Bin, Yi Hang decides that it would be best (for An Qi) if they were no involved and ignores all of An Qi's calls…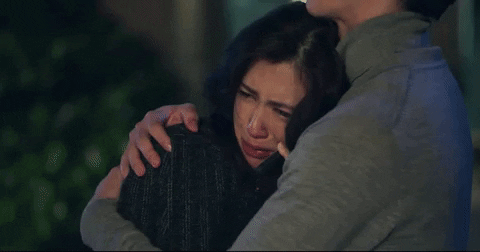 Its a little brighter for our other couples:
Kuang Jie reunites with her ex-husband, after a heartfelt discussion with An Qi about love, loss and relationships) and
An Qi's bestie is offered a singing contract by Kuang Jie after a video of him posted by Ah Gui goes viral.
Yi Hang hits rock bottom and refuses to take anymore work and is constantly drinking. Kuang Jie in an effort to help Yi Hang, gets him a directing gig for his "Black Wars" script, that An Qi secretly submitted for him. At his lowest, Yi Hang finds the message he was given by a mysterious lady at the temple which tell him to be resilient and persist… he takes this as the message he needs to find An Qi.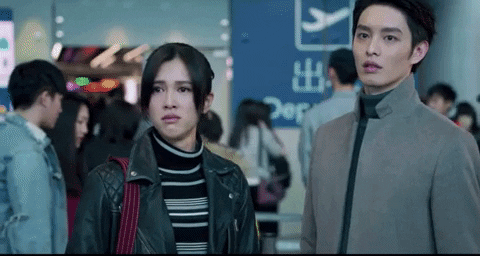 Believing that Yi Hang has abandoned her, An Qi agrees to visit Hong Kong with Yan Bin. However, at the airport… An Qi sees Yi Hang and they just stare at each other happily…
Next scene — Jin Guo in bandages and about to meet Yan Bin.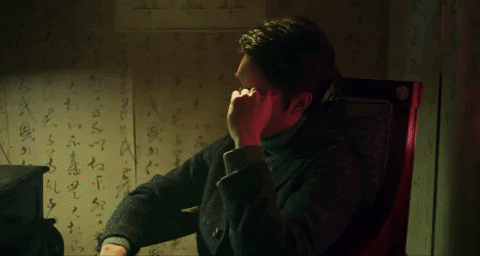 Thoughts: Again Ah Gui and An Qi's friendship really hit it home for me — I felt like if there was one relationship that was really fleshed out, it was this one. You could feel the mutual love and respect in almost all of their interactions. And despite An Qi position as heiress, Ah Gui never held it against her and was always there to support/protect her, even when she hadn't asked.
The ending? I've already made comments about it earlier — I didn't love it. Its obviously set up to make way for a season 2 where Yan Bin is the main antagonist.
Honestly, I like Yan Bin — he makes some very valid points that Yi Hang and An Qi. They are from two very different worlds (like An Qi's mother and father — and that did not end well, An Qi's mother passed away). Yi Hang's world is public, while An Qi's is in the shadows — them being together necessarily conflict. Like Ah Gui says: Yan Bin is good looking, caring and really likes An Qi. In theory, he would be the best match for An Qi (…this is my second male syndrome resurfacing). 
Obviously, I support 'love' and Yi Hang and An Qi appear to love each other. Even after a month since the hospital scene where Yi Hang ditched An Qi (I cried here btw — it was sad), they still couldn't stop thinking about each other and get their s**t together. So, I suppose it was only appropriate that Yi Hang stop her at the airport. We don't know what happens afterwards, but given Yan Bin has paid a visit to Jin Guo — it would be safe to assume they are together, somewhere.
Thoughts for season 2 — maybe Yan Bin decides to take over the Taiwanese Triad to try and win An Qi's heart/compliance? I really have no idea — that is where it seems to be heading but we will have to see!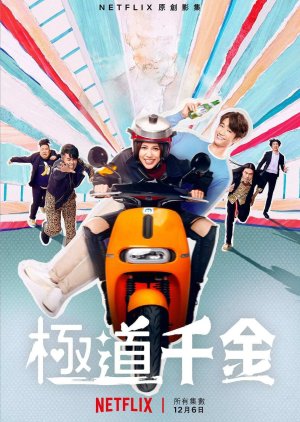 What did you think of Triad Princess?