Available on: Netflix
Total episode #: 16
Dumpling-rating scale:  4/5
From the archives, Who are you: School 2015 후아유: 학교 2015 is the 6th instalment in the popular "School" series.  Starring Kim So-hyun 김소현, Nam Joo-hyuk 남주혁 and Yook Sung-jae 육성재, Who are you: School 2015 like its predecessors explores issues such as bullying, suicide, tutoring culture and parental pressure.
Kim So-hyun portrays Go Eun-byul and Lee Eun Bi, twin sisters separated at birth. Following a series of unfortunate events, Eun Bi starts living as Eun-byul and has to navigate through her new life while settling grudges from her old.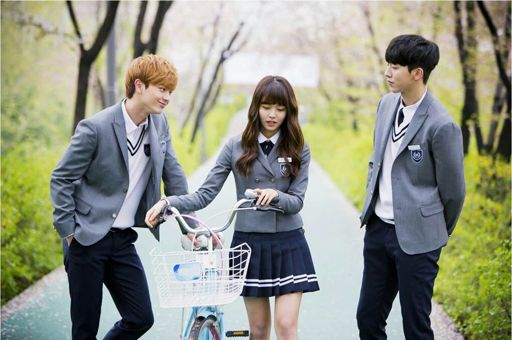 I really enjoyed this drama and have watched it multiple times. The issues it covered were confronting but its portrayal made them easy to digest. Heavy issues like bullying and suicide were interspersed with comic scenes (primarily by Yook Sun-jae) and that gave me the space to reflect on them.
There is of course also the undeniable chemistry between the main characters. Even beyond that was the friendship between the entire cast. Who are you: School 2015, epitomises Kdrama by creating a universe that you can easily enter into and start living in their world.
I highly recommend this drama as source of entertainment but also as a cautionary tale. For all those who haven't already watch it (and want spoilers), I've set out my episode recap below (stars🌟 next to my favourite).
---
Episode 1 –  Orphan Lee Eun Bi has aspirations to teacher. However after standing up for a student, she is the target of a group of bullies, led by Kang So-young. The bullying escalates and she is expelled from school. After her expulsion, Lee Eun Bi attempts suicide by jumping from a bridge.  In contrast, Go Eun-byul grows up privileged and loved. Although incredibly popular at school, she battles with guilt over the knowledge of her twin sister (amongst other things). On a school trip, Go Eun-byul disappears.
Episode 2 – Mysteriously, Lee Eun Bi survives her attempted suicide and is hospitalised. Suffering from amnesia,  the hospital contacts Go Eun-byul's mother and they reunited.  Go Eun-byul's friends are thrilled she is found. Both Han Yi-an and Cha Song-joo (both who had an earlier fight with her) rush to see her. Lee Eun Bi (as Go Eun-byul) meets the mischievous Gong Tae-kwang in hospital. Lee Eun Bi recovers from her injuries and still suffering from amnesia returns home as Go Eun-byul.
We learn that Gong Tae-kwang is living as the school director's secret son and that Eun-byul is part of group taking financial advantage of Seo Young-eun. Toward of the end of the episode, Eun-byul/Eun Bi is framed for stealing a top student's note book.
Episode 3 –  Eun-byul/Eun Bi is accused of bullying and stealing a notebook. A school hearing is held. With the help of Gong Tae-Kwang, Eun-byul/Eun Bi uncovers that Yeong-eun framed her after years of being used as a "free wallet". Meanwhile, Eun-buyl's mother is excluded from to mother's tutoring group. Eun-byul's memory starts returning. She is able to empathise with Young-eun and mend their relationship — Young-eun decides to transfer schools and start anew.
Episode 4 –  Eun-bi's memory returns. She uncovers Eun-byul's diary where she learns that Eun-byul knew all about her. Eun-bi tries to return to the orphanage but is stopped by Eun-byul's mother, who decides to adopt her and pleads with Eun-bi to continue living with Eun-byul.
News of Gong Tae-Kwang superstar mother's third marriage causes a stir and he gets into a series of fights. He connects with Eun-bi — as both are living as people they aren't.
Episode 5 🌟-  Lee Eun Bi's bully, Kang So-young, transfers in. Following Eun-Bi's suicide, Kang So-young's bullying streak is exposed and her prosecutor father transfers her out. Kang So-young immediately recognises Eun-bi and sets out to expose her.
Eun Bi and Han Yi-an connect. Han Yi-an asks Eun-Bi to be grant him a wish if Eun Bi gets her memory back. Tae-Kwang also starts falling for Eun-bi — and the love triangle begins…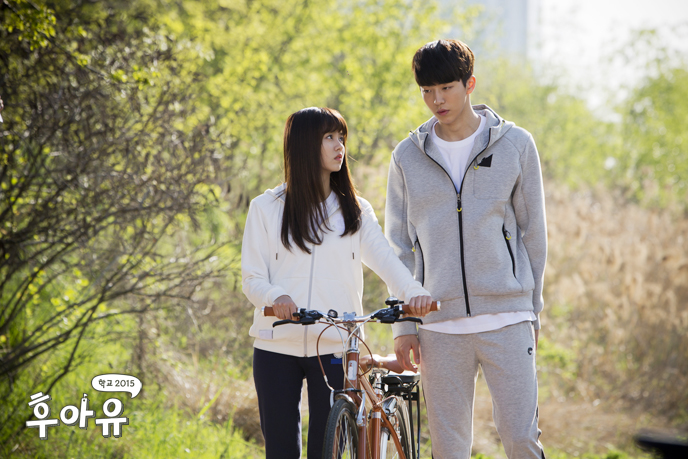 Episode 6 – Kang So-young escalates her pursuit of Eun-bi. Tae-Kwang comes to her rescue and later finds out that she isn't Eun-byul. Kang So-young uses her connection to separate Eun-Bi from Song-joo by offering her a modelling contract.
Han Yi-an's father is under increasing financial pressure which pushes him to take a modelling contract. Han Yi-an meets Song-joo at the fashion shoot. Song-joo is sidelined and Han Yi-an comforts her.
Top performing student Park Min-joon is increasingly under pressure to perform academically from his mother, who is making a profit by organising an illegal tutoring service (with Min-joon as its poster-boy).
Eun-bi tries to figure out the reason behind Eun-Byul's disappearance and the injury on her neck. Han Yi-an begins to suspect that Eun-bi/Eun-Byul is hiding something. Tae-Kwang decided he doesn't want to transfer out. So-young's bully past is exposed.
Episode 7 – Eun-bi/Eun-Byul and Han Yi-an reconcile and Eun-bi/Eun-Byul decides to defeat So-young. So-young's mother decides to disrupt Min-joon's tutoring group.
Eun-bi figures out that: Eun-Byul crossed paths with her on the day she disappeared, and that Eun-Byul met up with Yeon Min-ju the night before. Yeong Min-Ju got into a fight with Eun-Byul (resulting in the injury on her neck) over messages received from Jeong Su-In, a former friend who died in class.
Han Yi-an tells Eun-bi/Eun-Byul that he like the new Eun-Bi better.
Episode 8 🌟- A virus wipes out all the class assessments and an investigation persists. So-young is a suspect. The class turns on So-young and she becomes even more determined to expose Eun-Bi. Eun-Bi decides to tell Han Yi-an the truth.
A young teacher with a secret starts working at Sekang High School.
Episode 9 – Devastated by the truth, Han Yi-an stops talking to Eun-bi but can't help worrying about her. Han Yi-an ends up in a car accident (injuring his shoulder) trying to prevent So-young from exposing Eun-bi.
Episode 10 🌟- So-young's plan backfires after both Han Yi-an and Tae-Kwang come to her defense. The class turns on her and Song-joo ends her friendship with So-young. So-young's mother gets involved with her school dispute.
Eun-bi has guilt over Han Yi-an's injury, particularly because it could impact his swimming career. Eun-bi confesses her feelings to Han Yi-an.
Min-jun skips school and contemplates admitting to the laptop incident.
Episode 11 🌟 – The new teacher, Min-young starts investing Su-in's death which rattles the director and homeroom teacher, Kim Joon-seok.
Han Yi-an's father asks Eun-bi to continue supporting Han Yi-an.
Min-jun breaks under the pressure. His father finds him before he is able to attempt suicide. Min-jun tells his dad that he hates his mother and that he can't handle the pressure he is under.
Eun-bi is confronted by a masked women about Su-In's death. Ans Tae-Kwang finds Eun-bi's transfer papers.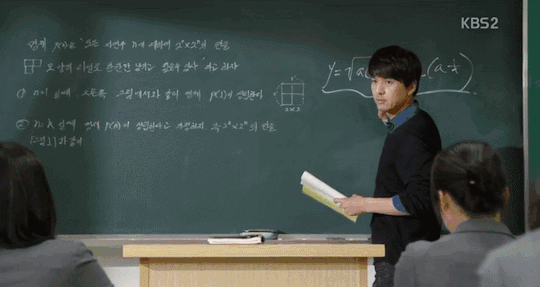 Episode 12 – Han Yi-an comforts Eun-bi after her encounter with the masked stranger. Eun-bi tells Han Yi-an that she will disappear if he starts therapy for his shoulder.
The young teacher is revealed to be Su-In's sister, the masked women and the one sending messages to Eun-Byeol. Su-In died in class. Because Su-In was bullied/isolated, nobody knew/cared that she had died. The home room teacher and the director tried to cover up her time of death at the risk of being found negligent/for the school reputation. Su-In's sister disgusted by the cover-up, joins the school to expose the cover-up.
So-yeong's father gets involved in exposing Eun-bi's identity. Tae-Kwang confesses to Eun-bi.
Episode 13 🌟 – Eun-byeol returns. Eun-byeol tells Eun-Bi that she had been watching over her the whole time (sending her the packages). It was Eun-bi that saved her from her attempted suicide. When Eun-byeol found out that Eun-Bi had lost her memory, she decided to allow Eun-bi live her life (the life she was suppose to have) and give herself space to escape the guilt she was having over Su-In's death (her former friend). Eun-byeol returned after a school post about Su-In's death and Eun-bi.
Eun-byeol returns to school and stands up to Ko So-yeong. Eun-bi returns to the orphanage. Tae-kwang finds out and follows her. Han Yi-an begins therapy and Eun-bi tells Han Yi-An that she has returned.
Episode 14 – Eun-byul's mother tells Eun-bi that she wants to officially adopt her and asks her to concentrate on her studies so that she can realise her dream of becoming a teacher.  Eun-bi goes to her grave and finds Oh Jeong (the friend she had stood-up to So-yeong for). Oh Jeong tells Eun-bi that she visited her grave often because of the guilt she had about Eun-Bi's expulsion. Oh Jeong wanting to punish Ko So-yeong, left Eun-bi's school tag next to the body of an unnamed person.
Han Yi-An can't stopping thinking about Eun-Bi and asks Tae-Kwang about her. With the help of Rae-jin, Eun-bi decides to return to Seoul and live with her family. Tae-Kwang confronts his dad about the cover-up of Su-In's death. Tae-Kwang gets sick and Eun-bi goes to his aid and meets his mother. Eun-byul comes to terms with Su-In's death, apologises to Su-In's sister and they grieve together.
Episode 15 – Han Yi-An witnesses Tae-Kwang kiss Eun-Bi and decides to get serious about pursuing Eun-bi. Kim Joon-seok decides to resign over the cover-up of Su-In's death. His students tell him how much they appreciated him by covering his car with post-it notes with messages of appreciation. The director is arrested for the cover-up.
Ko So-yeong wants to transfer out but her father refuses. He tells her to trample on those students instead. She starts hatching a plan to bring down Eun-bi. Han Yi-an starts to pursuing Eun-Bi.
Episode 16 – Eun-bi and Eun-byeol appear together in class — exposing themselves to the class. The class forgives Eun-bi/Eun-byeol for the lie, however Ko So-yeong continues to be ostracised. Sung-joo advises So-yeong that you don't make friends by being the toughest or the best but being genuine. A disciplinary hearing is held and So-yeong's father loses his nomination. So-yeong attempts to apologise to Eun-Bi. Eun Bi tells So-yeong to find her when she wants to genuinely apologise and that her not being dead should be enough comfort to her.
Eun-byeol decides to transfer out to study abroad and let Eun-bi continue at Sekang High. Before she leaves, Eun-byeol gives Eun-bi her blessings to be with Han Yi-an. Han Yi-an begins competitively swimming again. Sung-joo gets her modelling gig. Tae-Kwong dad is released from prison and they begin connecting. As for Eun-bi, she is living her best life with her mum and gets to start afresh with Han Yi-an….
What do you think of Who are you: 2015?