Available on: Viki, YouTube
Total episode #: 40
Dumpling-rating scale: 4/5
Love Better Than Immortality 天雷一部之春花秋月 retells probably the most common drama story in Cdramaland — if you're wondering what this is, it's the story of a modern girl transported back in time where she meets her true love. Her story doesn't end there though, she has to grapple with the life and choices of the person whose body she has taken over but has no memory of.
In Love Better Than Immortality, Zhao Lu Si 赵露思 portrays a girl from 2196 who gives up her immortality to experience true love. The virtual machine tells her that the first person she sees will be her true/fated love. Our modern girl wakes up and finds Xiao Bai (portrayed by Wu Jun Yu 吴俊余) starring back. Xiao Bai thinks she's eaten the Longevity Fruit and murdered the village healer. Having been searching for the Longevity Fruit to save his dying father, Xiao Bai is not impressed with Chuan Hua or her supposed case of amnesia.
Somewhere far away, Shangguan Qiu Yue (portrayed by Li Hong Yi 李宏毅) receives news that Chuan Hua (previously Hua Xiao Lei) is alive but has lost her memory and decides to go meet her for himself…
This drama is over the top, clever (in its own way!) and a lot of fun. It doesn't pretend to be original (even using the Ten Miles of Peach Blossoms soundtrack) and in a lot of ways is a parody of the long list of time-travelling/memory loss dramas (although I don't think it means to be that way). Despite its less than serious nature, the chemistry is serious. I've really been enjoying Zhao Lu Si's performance and paired with Li Hong Yi, she really does the role justice.
The male rivalry in this drama is also better than most. The line between good and evil is not as clear as most and the leads change and grow as the drama progresses. With low levels of second male lead syndrome, my only dissatisfaction was the amount of make-up on male lead Li Hong Yi — they overdid it, particularly the foundation on the eyebrows.
For the most part the pacing was good, except towards the end where there were quite a few disparate plot lines without any proper resolution and a lot of toing and froing between the leads. For more on this drama and ‼️ spoilers ‼️ , see my episode guide below and enjoy!
Part 1 | Episodes 1- 11 | Chuan Hua-Qiu Yue
Part 2 | Episodes 12 – 25 | Realities uncovered
Part 3 | Episodes 26 – 40 | Love and Sacrifice
---
Part 1 | Episodes 1-11 | Chuan Huan-Qiu Ye
After waking up in the middle of a crime scene, Xiao Bai finds the doctors notebook describing a girl, Chuan Hua, who almost died and has lost her memory. Despite the doctor's body on the ground, Chuan Hua only has eyes for Xiao Bai and is convinced that he is her husband. Xiao Bai doesn't feel the same and suspects her to be the culprit (probably given her indifference to the murder that just occurred).
To get to the bottom of the doctor's murder and to find the Celestial Fruit, Xiao Bai takes Chuan Hua back to Feng Ming Hill. When at Feng Ming Hill, it is explained to her that there are three feuding sects — Fengming Sect (the Righteous Sect, lead by Xiao Bai), Qianyue Sect (the Demon Sect, lead by Shangguan Qiuyue) and Chuanqi Sect (the second Demon Sect, lead by Fulou).
Returning to Fengming Manor, Chuan Hua meets and mistakes Shangguan Qiuyue for her brother. In exchange for Ye Yan's life, she agrees to steal the Fengming Sect's Xinfa (special sect techniques) for him.
Chuan Hua has a petal-like scar (according to Xiao Bai)/birthmark (according to Qiuyue) — when Xiao Bai sees it, he begins to suspect that Chuan Hua might in fact be his fiance (Hua Xiao Lei) who had reportedly died in a fire before they were able to marry. Under the guise of retrieving the Xinfa, Qiuyue spends a lot of time with Chuan Hua (appearing when she is sleeping, when she is bathing, there is no concept of personal space for Qiuyue). Both Xiao Bai and Qiuyue begin falling in love with the new Chuan Hua.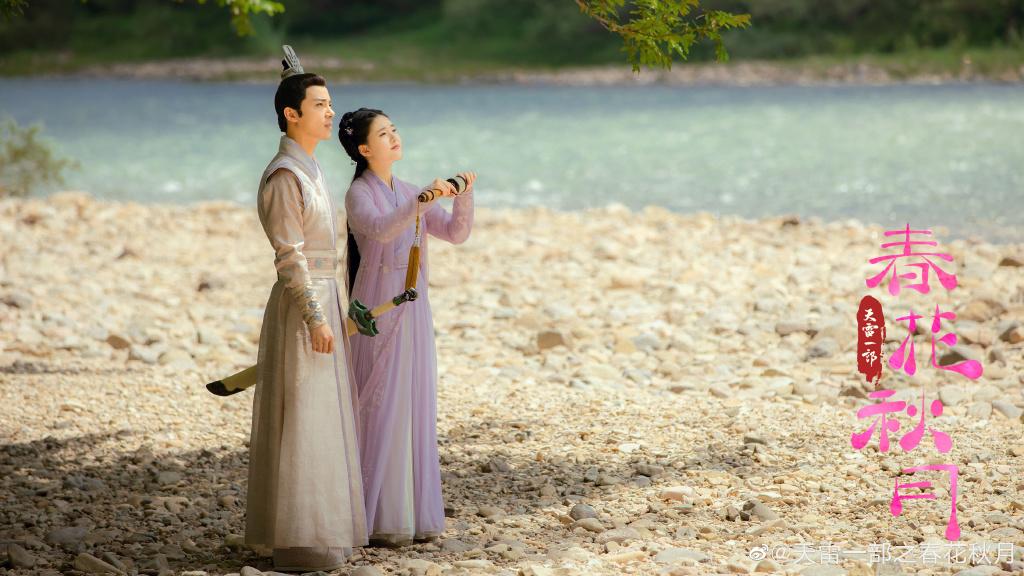 Shangguan Qiuyue's strategy is to make each sects Xinfa publicly available, thereby rendering them redundant and unify jianghu. In episode 5, Xiao Bai, his best friend Qin Liu Feng head to Hua Xiao Lei's town to meet the Hua family. Along the way they are joined by Feng Cai Cai and Leng Ning. Before Chuan Hua is able to meet her family, her brother secretly visits her and tells her that she shouldn't come home.
Turns out that Hua Xiao Lei didn't want to marry Xiao Bai and eloped with Qiuyue. The shame that would have followed Hua Xiao Lei's elopement resulted in her family setting fire to her room. Her brother attempts to kill her again but is instead killed by Ye Yan. Shangguan Qiuyue pretends to be her brother for a while, but also spreads news of the Celestial Fruit at Hua House. Fulou is particularly interested in the Celestial Fruit to save his wife's life. Fulou saved You Si decades before from her previously abusive husband and they've lived together truly in love. The whole of Jianghu knows that You Si is Fulou's weakness.
The news of the Celestial Fruit, leads to mass carnage including the deaths of Hua Xiao Lei's entire family. Learning that Chuan Hua is in fact Hua Xiao Lei, Xiao Bai proposes to marry Chuan Hua and gives her his sect's Xinfa.
---
Part 2 | Episodes 12-25 | Realities uncovered
On his father's final day of life , Xiao Bai masters the last move of the Feng Ming sword and Chuan Hua gives Qiuyue a fake Xinfa. Although Qiuyue soon realises its a fake Xinfa, he doesn't get mad at her and tells her that he's been obsessed with it to avenge his mother. Qiuyue's mother had a love affair with Xiao Bai's father after saving his life but was betrayed by him later.
In episodes 15-16, Qiuyue tests Xiao Bai's love for Chuan Hua by abducting her and making him choose between her, the Feng Ming Sword and the Celestial Fruit. Xiao Bai saves Chuan Hua (to Qiuyue's surprise) and tells her that he won't give up on her or his sword. But the consequences of his actions lead to the deaths of a lot of Righteous Sect members.
In the next few episodes, a lot of people die including Cai Cai's father and Cai Cai herself is poisoned. Chuan Hua again pleads with Qiuyue to save Cai Cai. After Chuan Hua saves Cai Cai, Xiao Bai again begins to suspect Chuan Hua for colluding with Qiuyue. His suspicions are further raised when Qiuyue interrupts Chuan Hua and Xiao Bai's wedding in episode 20. Chuan Hua pleads with Qiuyue and she is able to return to Xiao Bai.
Chuan Hua at some point is abducted by Fulou but is released by You Si — Chuan Hua admires You Si and Fulou's relationship and is what she views as "true love". Chuan Hua tells Xiao Bai that she wants to help find the Celestial Fruit for You Si. In trying to help You Si, Chuan Hua trusts Xiao Bai however this results in the death of both Fulou and You Si (dying in each other's arms, each trying to save the other). Devastated by their deaths, Chuan Hua decides to leave with Qiuyue.
---
Part 3 | Episodes 26-40 | Love and Sacrifice
Returning home, Qiuyue is hurt by Gu Xing Zhu (after saving his life at Chuan Hua's behest). Guilt ridden, Chuan Hua cares for him and they start really falling in love with each other. In episode 30, Chuan Hua discovers that actually Qiuyue is actually the first person she saw and was fated to be with.
In episode 32, Chuan Hua and Qiuyue finally leave the cave and Chuan Hua finally starts accepting Qiuyue as her fated Mr Right. Leng Ning decides to start dressing like a woman and reciprocating Qin Liu Feng. Chuan Hua-Qiuyue's happiness doesn't last long when she realises the extent of Qiuyue's lies (including that he pretended to be injured to spend time with her in the cave). At some point, Chuan Hua is poisoned by Puer with the Bai Hua Calamity/love poison which spreads every time she has love pangs.
Chuan Hua returns to Feng Ming Manor to find Xiao Bai overtaken by jealously and rage caused by Chuan Hua's abandonment in episode 34. Xiao Bai's feeling are incompatible with the purity of the Feng Ming Sword which causes him to act aggressively and out of character. Qiuyue once again saves Chuan Hua after Xiao Bai tries to attack her and she returns to Qian Yue Cave. Chuan Hua moves between Xiao Bai and Qiuyue in the next few episodes (which gets a bit repetitive) but finally her Bai Hua Calamity spreads to the point that she is dying, just in time for another great battle between the Righteous and Demon Sects.
In the final episode, Qiuyue decides to sacrifice his inner vitality to save the poisoned/dying Chuan Hua (while Xiao Bai chooses to uphold justice and preserve Jiang Hu). Chuan Hua learning of Qiuyue's sacrifices immediately goes to find him (with Xiao Bai's blessing, as he acknowledges that Qiuyue is able to put her first while he will always be in a position where she has to be sacrificed for Jiang Hu/the world).
Chuan Hua finds Qiuyue dejected and powerless. Chuan Hua tells Qiuyue that she chooses him not because she feels sorry for him or because she owes him but because she loves him. Qiuyue although at first hesitates (rationalising that he's now powerless and can't give her anything) decides to start a life together with Chuan Hua. We then flashback to the very beginning and find out that Qiuyue gave Chuan Hua her name (hence their matching names, this was hinted throughout the drama).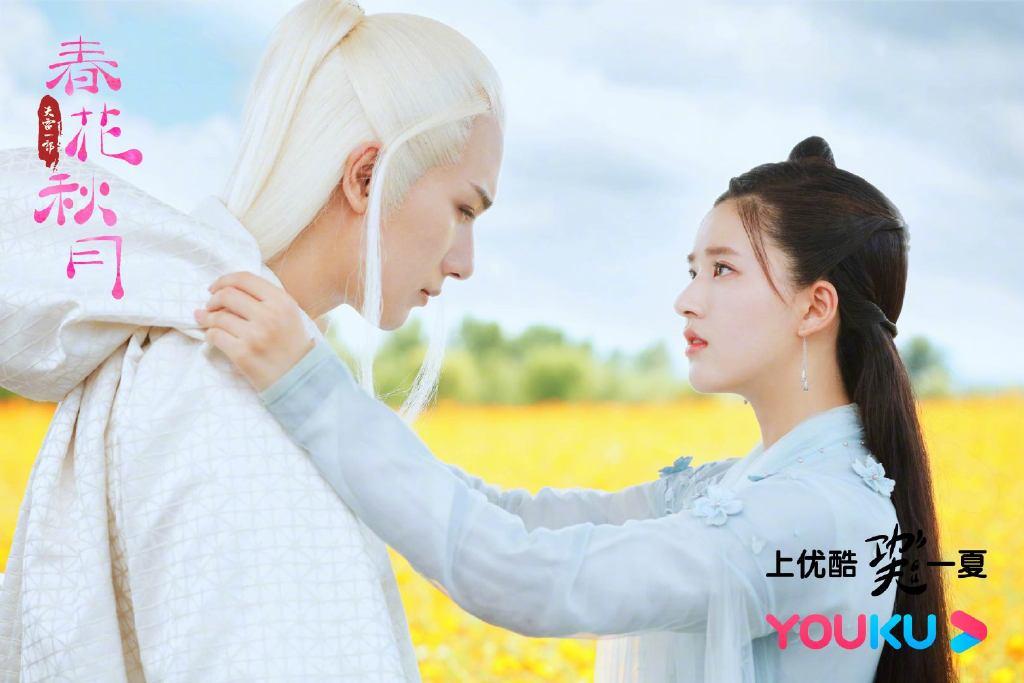 While I found the whole brother-sister romance (even though it was pretend) a little uncomfortable and the male leads at times inappropriately aggressive, I thought it was a brilliant love story. It beautifully portrayed the conflict between love and duty, the individual and collective… I really liked this drama.
Each character had so much more depth than you would expect of a time-travelling drama. Unlike most, I also quite liked Chuan Hua — she was in a difficult position. Despite her feelings for Qiuyue, I thought she was absolutely justified to doubt him and require him to redeem himself, he was after all a scheming lying killer! While I'm still trying to process my feelings, I know that I will be re-watching this drama.
What did you think of Love Better Than Immortality?