Available on: Viki, YouTube
Total episode #: 40
Dumpling-rating scale: 4.5/5
Go Ahead 以家人之名 is a coming of age drama starring Tan Songyun 谭松韵, Song Weilong 宋威龙 and Zhang Xincheng 张新成. The story revolves around the vibrant Li Jianjian and her father Li Haichao — and how their little and big acts of kindness affect the people around them.
I was initially hesitant to start watching this drama — although only hearing really positive things — I just wasn't in the mental space to deal with someone else's trauma (given the year 2020 has been). However, contrary to other synopsis' of this drama, Go Ahead isn't really about three troubled youth. Rather it chronicles the childhood, adolescent and adulthood of Li Jianjian, Ling Xiao and He Ziqui each having to deal with and overcome challenges associated with life — and I am sure we can all relate to how complicated and difficult life can be at times.
Although there were some heart-wrenching tear-jerking moments, they were interspersed with feel-good moments, comic relief and a little romance (even a brief love triangle!). Unexpectedly, the foodporn was real — every episode featured an array of delicious meals, which left me salivating for some tasty Chinese. The use of flashbacks in this drama was also very effective. Unlike a lot of other drama, the flashbacks served to develop the characters and explain the plot.
Without discounting the story, the best bit about this drama was watching and learning from Li Haochao — Li Jianjian's single father, who lost his wife to preeclampsia and now owns/runs a noodle shop. Although, Li Haochao is a simple man, he always carries himself with dignity and treats everyone with respect and kindness. Despite his own life circumstance, he is incredibly generous with his time and money. It is also not difficult to see how he raised someone like Li Jianjian — the glue that brings everyone together. Li Jianjian's confidence, warmth and honesty was cultivated by Li Haochao's unconditional love for her.
The interaction/relationship between all the characters also felt genuine and not contrived (very different from The Pillow Book, which I just reviewed). The pacing was good, the plot strong and the acting realist. For ‼️ spoilers‼️, see my episode guide below and enjoy! —
Part 1 | Episodes 1 -11 | Creating a family
Part 2 | Episodes 12 – 24 | Mending broken relationships
Part 3 | Episodes 25 – 40 | A new family
---
Part 1 | Episodes 1 – 11 | Creating a family
In the summer of 1999, Ling Xiao with his parents move into Li Qianqian's neighbourhood. Ling Xiao's sister died shortly before their move after suffocating on a chestnut. The consequence of which causes his mother — Cheng Ting — to mentally unravel, verbally abusing both Ling Xiao and his father Ling Heping. Cheng Ting ends up filing for divorce from Ling Heping and abandons Ling Xiao.
He Ziqui's mother — He Mei, a single mother and a beautician — is introduced to Li Haochao. They get along and it is obvious there is something between them. However, following a dramatic turn of events, He Mei leaves borrowing money from Li Haochao and leaving He Ziqiu in his care. Despite both being abandoned by their mothers in episode 2, Ling Xiao and He Ziqiu find happiness again in their atypical family unit.
Li Qianqian starts high school and meets her future best friends/roommates Qi Mingyue (a top student, with a controlling mother) and Tang Can (a child actress, also with a controlling mother) in episodes 3 and 6 respectively. Interrupting their idyllic family life are Ling Xiao's mother (who remarries a Singaporean business and has another daughter, Qin Mei Ying) and He Ziqui's biological father.
Cheng Ting and Zhao Hua Guang (He Ziqui's biological father) both blackmail their sons to go abroad with them — Ling Xiao to Singapore and He Ziqui to London. Their departure in episode 11 breaks Li Qianqian's heart and she is determined to form a new identity without her brothers. Li Jianjian graduates high school and starts university as an arts major. To protect herself, Li Jianjian distances herself from her brothers.
---
Part 2 | Episodes 12 – 24 | Mending broken relationships
In episode 12, Ling Xiao and He Ziqui return, both intent on making amends with their family in particular with Li Jianjian. Ling Xiao finds a job as a dentist and He Ziqui as a pastry chef. Now a renowned sculptor, Li Jianjian has moved into an apartment by the beach with Qi Mingyue (now a journalist) and Tang Can (no longer an actress but providing costume service). Both with the same idea, He Ziqui and Ling Xiao move into an apartment opposite Ling Jianjian.
Throughout this arc, Ling Xiao and He Ziqui's time abroad is revealed. In Singapore, Cheng Ting (who after an accident which killed her husband, lost use of her leg) continued to verbally and physically abuse Ling Xiao. Even after Ling Xiao's return, he continues to medicate himself to deal with the trauma caused by his mother and his sister's untimely death (which his mother continues to blame him for). On the positive side, Ling Xiao and his half-sister Qin Mei Ying develop a close bond. While in London, He Ziqui and Zhao Hua Guang's relationship is irreparably broken after Zhao Hua Guang has another son and He Ziqui continues to reject Zhao Hua Guang as his father. He Ziqui is cut-off financially and suffered in silence while in London.
Living in close proximity with each other, the siblings reconnect. Li Jianjian finding out about her brothers difficulties abroad forgives them for abandoning her and tries to help them mend their wounds. In episode 17, the love triangles commence (right after He Ziqiu's car accident) — Qi Mingyue likes Ling Xiao who likes Li Jianjian. He Ziqui also like Li Jianjian. Meanwhile, Tang Can likes Zhuang Bei (He Ziqui's best friend/landlord/lawyer) who like Qi Mingyue. Things blow-up when Mingyue discovers that Ling Xiao romantically likes Jianjian in episode 20. Mingyue moves out and Ziqui proposes marriage to Jianjian. Feeling trapped, Jianjian seeks advice from the internet in episode 24 which causes issues later down the track.
---
Part 3 | Episodes 25 – 40 | A new family
Bonds are broken and reformed in this arc. Although Ling Xiao confessed to Jianjian in the previous arc, He Ziqiu finds out in episode 27 and Li Hao Chao in episode 29 — although both initially surprised, all get use to the idea after they see how in love Ling Xiao and Jianjian are. Even Chenting and Qin Mei Ying finally accept Jianjian after their move China in episode 33 and subsequent move back to Singapore in the finale.
Qi Mingyue makes up with Jianjian and confesses that she was more in love with the idea of Ling Xiao than the real him. Overcoming that hurdle, Mingyue has to navigate her parents divorce and reconcile with her mother, even assisting her form a new identity. Similarly Tang Can makes up with her parents, and with the assistance of Zhuang Bei (after a messy break-up of their fake relationship) is able to resume her acting career. Tang Can and Zhuang Bei also begin dating for real in the finale.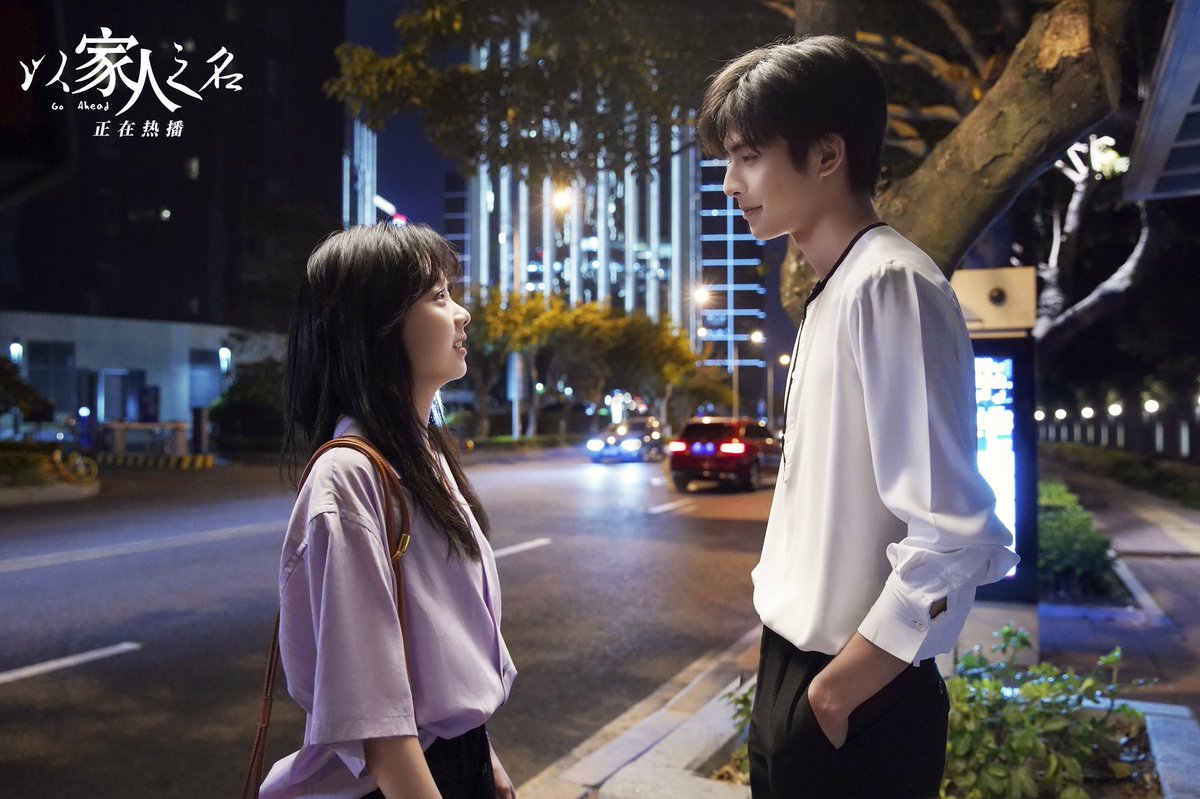 The biggest plot twist is the return of He Mei — turns out that He Mei only abandoned He Ziqui because she was found guilty of negligence causing death while working in Shenzhen. She was sentenced to a number of years in prison and could not contact He Ziqiu. After her release, she immediately returns the money Li Haochao borrowed her and has been looking out for He Ziqiu. Dong dong is not her biological son but the son of her former employee also in prison (serving time for killing her abusive husband). He Ziqiu slowly begins to understand her and finally gives his blessing to Li Haochao and He Mei.
The finale was really sweet — Chenting finally realises how manipulative and abusive she's been over the last few decades and attempts suicide. Chenting survives, reconciles with Ling Xiao and departs for Singapore with Qin Mei Ying (I still don't like her though). Ling Xiao is able to forgive himself for his sister Yun Yun's death and is able to move on with his life. And at the very end, Li Haochao and Hemei marry surrounded by the people they love most.
What did you think of Go Ahead?