Available on: Viki, YouTube
Total episode #: 56
Dumpling-rating scale: 3/5
I've finally gotten round to reviewing The Pillow Book 三生三世枕上书, the sequel to Ten Miles of Peach Blossoms 三生三世十里桃花 starring Dilraba 迪丽热巴 and Gao Weiguang 高伟光. Although marketed as a sequel, it would be misleading to call it that as it retells the story Bai Feng Jiu and Dong Hua from the very beginning and doesn't follow on from the Ten Miles of Peach Blossoms . The Pillow Book (also known as, Eternal Love of Dreams) chronicles Feng Jiu and Dong Hua's first encounter to the subsequent three lives together.
I was deeply disappointed with this drama, which is why it has taken me so long to review it. I note that The Pillow Book based on 19,000+ reviews, holds a 9.7 stars (compared to 9.6 stars for Ten Miles of Peach Blossoms, based on 14,000+) so my opinion is definitely a minority view. I found the plot was slow and uneventful, the chemistry between the leads was weak and the acting rigid and awkward. While I wasn't in love with their story in Ten Miles of Peach Blossoms, it was tolerable. I just felt that in this version neither Bai Fengjiu or Dong Hua were honest with themselves or each other. Without the countervailing performance of Yang Mii and Mark Chao, I actually started to get quite annoyed with both Dilraba and Gao Weiguang.
It wasn't Dilraba's performance so much has her character — Feng Jiu did not grow up, she was perpetually child-like and always in need of someone to bail her out. Her obsession with with "paying back" Dong Hua got old quickly. If I had any message for her it would be: please, please be honest with yourself, you are not trying to pay him back, you are just obsessed/in love with him. Accept it and move on with your life.
With Gao Weiguang, it was his performance. I know Dong Hua is meant to be "rock-like" and lacking emotions but Gao Weiguang was truly lifeless. Despite the multitude of flash-backs, Dong Hua seemed completely vacant and absent. There are heaps of actors, that would have been more appropriate in this role. He may not have been super popular, but Chang Chen in Love and Destiny was able portray ice-man Jiu Chen was sufficient emotion to make the love story credible.
My final complaint is the amount of filler plots — particularly the side story of Yan Chiwu and Ji Heng, . To end on a positive note, I quite enjoyed the soundtrack and is by far the best part of this drama.
If I haven't turned you off this drama, and you're still interested to give The Pillow Book a go, hopefully my episode guide below make the journey a little easier:
Part 1 | Episode 1 – 8 | Paying back a debt
Part 2 | Episodes 9 -21 | First Life, Mortal Realm
Part 3 | Episodes 22 – 49 | Second Life, memories of Aranya
Part 4 | Episodes 50 – 56 | Third Life, Feng Jiu and Dong Hua
---
Part 1 | Episodes 1 – 8 | Paying back a debt
The beginning describes Dong Hua's victory against the Demon Lord, success in unifying the world and achieving God-like status (even amongst Gods). In the present, the mischievous Feng Jiu is saved by Dong Hua. Although he isn't aware of his good deed, Feng Jiu decides she has to pay him back. With the help of Si Ming, Feng Jiu is able to enter to the heavenly kingdom as a maid.
Feng Jiu is eventually elevated to Dong Hua's pet fox, after she spends time with him following his battle with Yan Chiwu (and is locked up in the lotus sphere). Although Feng Jiu is able to spend all day with him, she becomes sad learning that he only views her a pet (episode 5). Which is a little confusing, as how else is he suppose to treat her in fox form?
Feng Jiu is even more aggrieved when Ji Heng enters the palace and the rumour that she will wed Dong Hua spreads. Feng Jiu begins acting up, has a fight with Ji Heng's lion and eventually leaves the Heavenly Realm shamed. Si Ming, Chen Yu and Zhe Yan also confront Nie Chi Yun to retrieve Feng Jiu's fur (she foolishly gave away). Seeking vengeance, Nie Chi Yun consults the Demon Lord, who advises his to find the soul-locking jade and release her.
Dong Hua is weakened after saving Jiheng again (Dong Hua is indebted to her father) and begins his trial in the moral world. Dong Hua is reborn as Song Xuanren — the Crown Prince of Cheng Yu Kingdom Feng Jiu requests Si Ming to allow her to accompany Dong Hua in his moral trial.
---
Part 2 | Episodes 9 – 21 | First Life, Mortal Realm
Feng Jiu (in disguise) saves Song Xuanren on the battlefield. Soon after, Xuanren ascends to King and is shown the soul-locking stone. Nie Chu Yin still searching for the soul-locking stone uses Jiheng to acquire the stone. As fate would have it, Feng Jiu's interference on the battlefield leads to her returning to the mortal realm as Xuanren's love interest (Xuanren falls in love with her at first sight in episode 11). There is filler poison arc (episodes 14-16) which doesn't go anywhere, except that Feng Jiu is elevated to furen (from meiren) and hiding the soul-locking stone (episodes 17-18).
Feng Jiu's mission in the moral realm is to break Xuanren's heart — which she manages when she pretends to run-away with his trusted companion Qingti on her wedding day to Xuanren and then commits suicide (after telling Xuanren, her true love was Qingti) after Qingti sacrifices himself for the pair and the soul-locking stone. Xuanren dies shortly after and returns as Dong Hua in episode 21.
---
Part 3 | Episodes 22 – 49 | Second Life, memories of Aranya
Nie Chu Yun gives the soul-locking stone to the Demon Lord. The Demon Lord advises him that it will take some time to absorb the power and break free. Dong Hua loses his memory (as Ji Heng regains hers). Feng Jiu depressed about Qingti's sacrifice and Dong Hua agrees to marry Chang Yi in episode 23 and regrets is later (another filler arc).
With the third prince, Dong Hua visits Qing Qui to attend Bai Qin and Ye Hua's wedding. Dong Hua and Feng Jiu meet in episode 24, which is the first of their coincidental meetings (including one where Feng Jiu encounters Dong Hua as a handkerchief). It's not exactly clear why, but Dong Hua decides to take Feng Jiu along with him to battle Yan Chi Wu.
Feng Jiu is trapped with Yan Chi Wu in the centre of the Biyi Niao Clan for the next 60 years. It so happens that an annual competition is held where the prize is the fruit which will revive Qingti. Feng Jiu decides to take her lessons with the Biyi Niao Clan seriously to compete. Dong Hua arrives to the Biyi Niao Clan as a replacement teacher in episode 29 to save Feng Jiu. Dong Hua again gets injured in episode 31 after battling Miao Luo and saving Feng Jiu (Dong Hua getting injured is starting to get old). And Feng Jiu falls ill in the next episode.
It is revealed that Fan Yi Gu only has winter in memory of Aranya. In another turn of events, Feng Jiu is trapped in Aranya's Dream, and Dong Hua enters the formation to rescue her in episode 38. This is arc is like Dong Hua's mortal trial except Feng Jiu is on "trial". After recreating crucial moments, Feng Jiu is able to return to her own body in episode 41, but causes a merger between Feng Jiu and Aranya.
Episode 42 starts again with Dong Hua injured (following his battle with Miao Luo). Dong Hua proposes to Feng Jiu in epsiode 44 and there is a love triangle with Shen Ye (Dong Hua's doppelganger). The Queen finally reveals the reason for Aranya's dream — the dream was retribution by Shen Ye against the Queen and the Queen's mother for the machinations against Aranya resulting in her death.
In episode 49, it is revealed that both Shen Ye and Aranya are Dong Hua and Feng Jiu's shadow respectively. Both return to their true form and dong Hua prepares to battle Miao Luo.
---
Part 4 | Episodes 50 – 56 | Third Life, Feng Jiu and Dong Hua
In the final arc, Feng Jiu has to perform at the sword ceremony. She succeeds with Dong Hua's help but later has to fight against Nie Chu Yin (he is only defeated with Dong Hua's help… most drama's don't do heaps for women's empowerment, but this is getting a little excessive, Feng Jiu can't do anything without Dong Hua).
Feng Jiu and Dong Hua's wedding is further delayed because of more misunderstandings relating to Ji Heng. Before they are able to clarify the misunderstanding, Dong Hua sacrifices himself to defeat Miao Luo. Meanwhile, Feng Jiu gives birth to Gun Gun (a copy of Dong Hua) in the mortal realm. Feng Jiu and Dong Hua revive Qingti in episode 54.
Feng Jiu and Dong Hua are able to defeat Miao Luo together (meaning that Dong Hua can live, although Feng Jiu is injured). While Feng Jiu is unconscious, Dong Hua gets to meet his son (in the finale). Predictably, Feng Jiu awakes and they are able to live as one happy family. Its happy endings all round Ji Heng reciprocate Yan Chiwu's affection and Bi Yi Nao moves to Qing Qiu.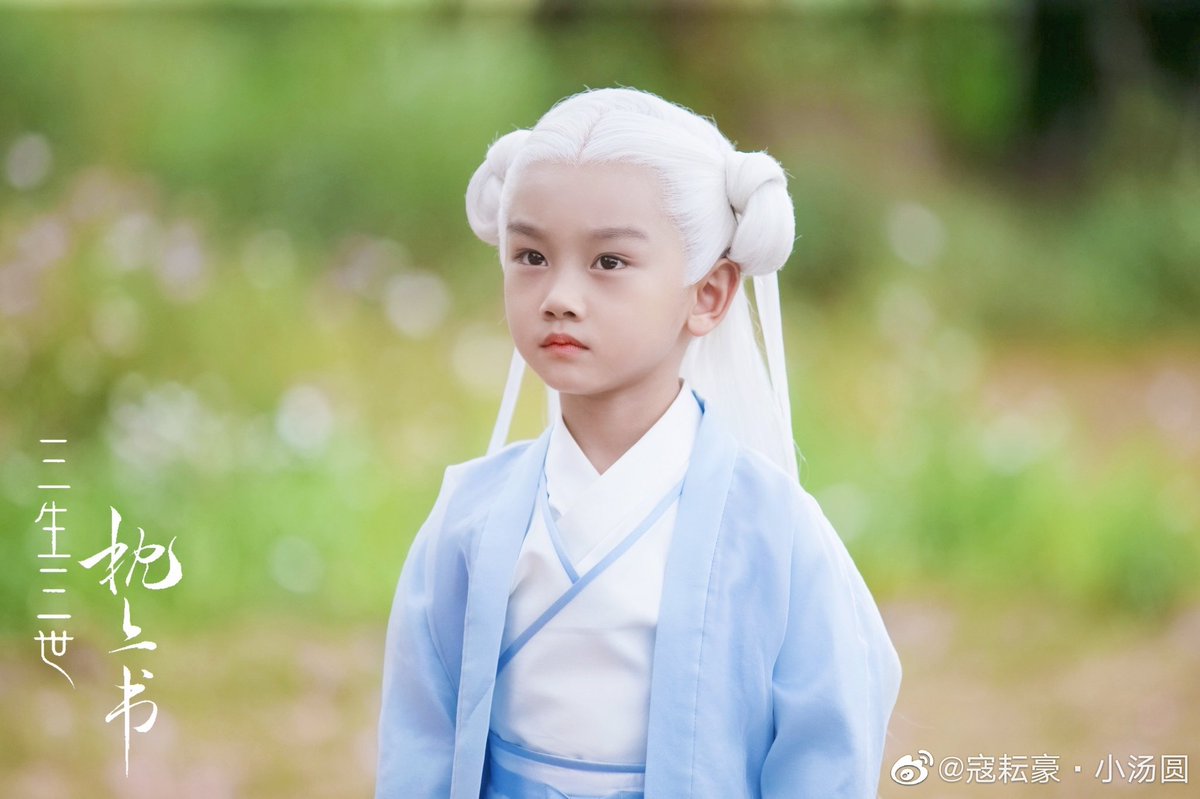 What did you think of The Pillow Book?