Available on: Netflix
Total episode #: 16
Dumpling-rating scale: 4/5
It's been a while. A lot has happened in my life – I welcomed a little baby boy in July! Pregnancy and now motherhood has been a bit of a rollercoaster. I had to take a break but I'm back and couldn't think of a better drama to review than "Was It Love?".
Was It Love? is a perfect combination of love, comedy and heartache. Our protagonist is Noh Ae-jung (portrayed by Song Ji-hyo, also from Princess Hours) — a single mother in the film industry with incredibly bad luck. The drama starts with Noh Ae-jung hustling her way through life after dropping out of film school following an unplanned pregnancy. Supporting her is our favourite drama-mama Kim Mi-kyung (from The Heirs, It's okay, that's love, Hi Bye Mama, the list goes on…).
After countless interviews, Mr Wang — an owner of a small film company (Thumb Films) — gives Ae-jung a chance. Ten years later, that film company is in dire financial straits and Noh Ae-jung realises that she was scammed into guaranteeing a million dollar debt. Mr Wang flees and debt collector Koo Pa-doo comes after her. After finding an old torn-up contract with a renowned author, Noh Ae-Jung decides to find him and produce a film to satisfy her debt. In doing so, Noh Ae-Jung is reunited with her college sweetheart Oh Dae-oh, college crush Ryu Jin and close friend Oh Yeon-woo. 
Was it Love? is a light comedy knee-deep in surrealism. I mean how fantastic to be pursued by four very eligible men all at the same time! To keep it interesting there is also the ongoing mystery of who fathered Noh Ae-jung's daughter Noh Ha-nee and how Ae-jung ended up as a single mother. While every episode flashes backwards and forwards in time – the story is simple, warm and oddly relatable.
As always I've set out a short summary of each episode below. There are ‼️ spoilers‼️, so please stop reading here if you want to follow the journey with Noh Ae-jung yourself.
---
Episode 1 – Noh Ae-jung's day goes from bad to worse when loan shark Koo Pa-doo seeks to collect the debt from her and she realises that his son attends the same school as her daughter Noh Hae-Nee. Head strong Hae-Nee gets in trouble on her first day of school after defending Dong-chan from bullies. Ae-jung tells her friend and landlady Kang Suk-hee of her situation and she consoles her while pushing her to find a way out.
Hae-nee's new homeroom teacher is long time admirer of Noh Ae-jung – Oh Yeon-woo. Yeon-woo is delighted to find Ae-jung again and makes every effort to run into her. Ae-jung doesn't have too much time to realise as she tries to find someone willing to invest in Thumb Film. After failing to find funding, Ae-jung and assistant Choi Hye-jin find a contract with the renowned author Cheon Eok-man.
Running out of options, Ae-jung proposes that Koo Pa-doo invest in their movie and take the profits which should settle her debt. Koo Pa-doo agrees on the condition that Ae-jung persuade Cheong Eok-man to write the script and famous actor Ryu Jin star in it. Unbeknown to Koo Pa-doo, Ryu Jin is Ae-jung's high school crush and almost first kiss.Noh Ae-jung with nothing to lose emails Cheong Eok-man. To her surprise, he responds and they meet up at a swanky hotel. There she realises that Cheong Eok-man is her college boyfriend – Oh Dae-oh. 
Episode 2 – Oh Dae-oh delights in the fact Noh Ae-jung is now seeking him out and swiftly rejects her — a move he has been planning for 14 years ago. Dae-oh decides to celebrate this victory with his best friend Ryu-jin – Ryu-jin is obviously uncomfortable with Dae-Oh's actions. In a flashback we witness Dae-Oh's heartbreak and also get the sense that Ryu-jin also had feelings for Noh Ae-jung.
Desperate, Noh Ae-jung attends Dae-Oh's book launch for Girlfriend (a book based on her) where he seeks to publicly shame her into admitting that she broke his heart. To his surprise, Ae-jung turns the tables and suggests that it was him that broke her heart. Dae-oh later finds Ae-jung and the share a tender moment. Meanwhile, Hae-nee finds a pregnancy diary by Oh Yeon-woo in the attic.
Episode 3 – Ae-jung's mother persuades Oh Yeon-woo to move in with them while Hae-nee (along with Dong-chan) decide to find Hae-nee's father. Meanwhile, Dae-oh (unable to forget Ae-jung) follows her and realises that she is in debt to Koo Pa-do and decides to help her produce her movie. Koo Pa-do finds Mr Wang and saves him from other loan shark. Koo Pa-do's right-hand man observes that it seems like they owe Ae-jung when it is in fact the other way round. Ryu-jin's Hollywood debut falls through and he receives a call from Hae-nee.
Episode 4 – Yeon-woo and Dae-oh meet and the love rivalry begins – it is revealed that Yeon-woo is the heir to an entertainment company which his mother is trying to get him to join. This love rivalry culminates at a school event which Dae-Oh was suppose to present. Dae-Oh after learning that Ae-jung is single mother rushes to the school and tells Ae-jung that he still loves her. Meanwhile, Ryu-jin believing that he might be Hae-nee's father, decides to attend her school and present in Dae-Oh's place.
Episode 5 – Ryu-jin saves the day and under pressure agrees to Ae-jung's film – he then has to manage the blow-back from the controlling Ms Song. With the whole crew together (Ae-jung, Dae-Oh and Ryu-jin) – the team celebrate at Suk-hee's bar where Ae-jung gets very drunk. All three men escort her home and they meet Hae-nee. Hae-nee continues to believe that Ryu-jin is her father and is devastated after his manager Myeong Kwae-nam asks her to stop calling him. The feisty actress Joo Ah-rin (dubbed Angel of Asia) is cast as the leading lady after Dae-Oh (her college crush) asks her to star in his film.
Episode 6 – Dae-Oh ruins Ae-jung and Yeon-woo romantic date. And later Hae-nee confirms that Yeon-woo isn't her father. Dejected, Hae-nee adopts an abandoned puppy. While Dae-Oh continues to fall even more in love Ae-jung, Ah-rin starts pursuing Dae-Oh. Ae-jung and Dong-chan bond and Ae-jung invites Koo Pa-doo to join the PTA. In a flashback we learn that Koo Pa-doo is a Hong Kong gangster and his boss' wife (and first love) was Ae-jung's doppelgänger.
Episode 7 – Oh Dae-Oh confesses to Noh Ae-jung and she pretends that he's joking. Ms Song realises that Ryu-jin thinks he's Hae-nee's father. Dae-woo tells Ryu-jin that he still loves Ae-jung. Ryu-jin uncomfortable with Dae-woo's confession reminisces of his missed opportunity and decides to pursue Ae-jung. To get closer to Ae-jung, Koo Pa-doo decides to join the PTA. The PTA mother's elect Koo Pa-doo as their representative and he appoints Ae-jung as his deputy. Dae-Oh saves Hae-nee from an motorcycle accident. Following the accident, at the hospital Ryu-jin gets the opportunity to apologise to Hae-nee. However, when Hae-nee asks Ryu-jin if he is her father he doesn't respond. Ryu-jin tells Dae-Oh that he is going to start pursuing Ae-jung.
Episode 8 – During the film casting celebration, Ah-rin reminds Ryu-jin that she still remembers the day she caught him pooping on the roadside and decides to use it to bully him. Ryu-jin's day goes from bad to worse when Dae-Oh ends his friendship with him over Ae-jung. Having ended his friendship with Ryu-jin, Dae-Oh gets drunk and gets Ah-rin (who's had a crush on him since in secondary school) to take him to Ae-jung. Dae-Oh asks Ae-jung to choose between himself, Ryu-jin and Yoon-woo. After she fails to give him an answer, Dae-Oh conspires with her assistant to get her onto a remote island where he plans on telling her how he feels again.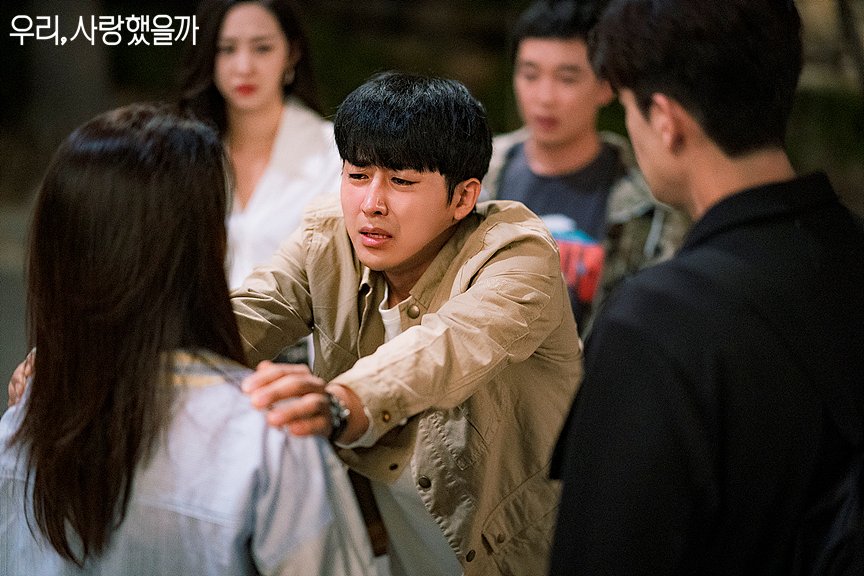 The tension between Yoon-woo and his mother increase when he becomes concerned that his mum will get between him and Ae-jung again. Hong Kong gangsters turn up and demand that Koo Pa-do return to Hong Kong to ask forgiveness for killing their boss. The gangsters threaten Ae-jung. All four men go to the island to look for Ae-jung.
Episode 9 – This is definitely a filler episode. The four men and Ae-jung are stranded on the remote island together. Ultimately, Dae-Oh comes out on top. Hae-nee and Dong-chan continue to search for Hae-nee's dad and Dong-chan finds out that his mother was Ae-jung's doppelgänger. In an attempt to control Ryu-jin, Ms Song tries to dig up some dirt on him, and decides to involve Hae-nee and Ae-jung. Finally, Mr Wang resurfaces following a newspaper announcement that Ryu-jin and Ah-rin are starring in Ae-jung's film "Love is Non-existent".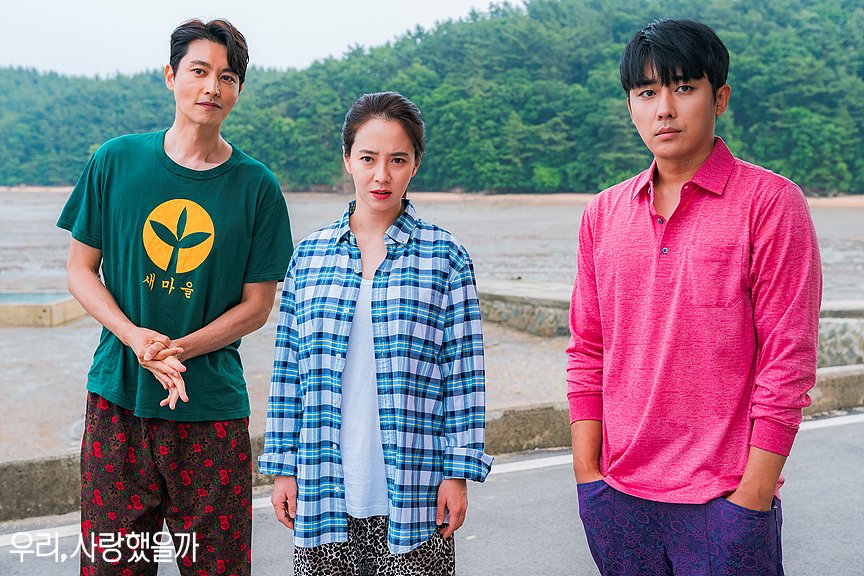 Episode 10 – Ryu-jin terminates his contract with Ms Song. Ms Song becomes vindictive and leaks that he fathered Hae-nee. Through a series of flashbacks, we learn that Ae-jung disappeared the first time because she found a young Ah-rin hugging Dae-Oh in his apartment (and thinks he cheated on her). Finding Ah-rin in his apartment again, they end up fighting again and Dae-Oh breaks up with her.
Dong-chan stops helping Hae-nee in her search for her father as he believes they might be siblings. In a flashback, we learn that Dong-chan's mother – the love of Koo Pa-do – before her death asked him to keep Dong-chan safe. Dae-Oh finally realises that he is Hae-nee's father.
Episode 11 – In this episode it is confirmed that Dae-oh is Hae-nee's father. Following a series of misunderstandings – including a text that Ryu-jin hid – Dae-Oh and Ae-jung to split up. Dae-oh connects with Hae-nee and asks Ae-jung's mother for forgiveness. Ah-rin and Ryu-jin bond over each of their unrequited love. As revenge for Ryu-jin leaving her company, Ms Song leaks that Hae-nee is Ryu-jin's daughter (even though she knows its no longer true).
Episode 12 – Another filler episode, with the assistance of Mr Wang, the team work (and succeed) in discrediting Ms Song. In separate flashbacks, we learn that Ae-jung helped Yoon-woo believe in himself after an injury and Dae-Oh's family never believed in him (and he's been working since to prove them wrong). Hae-nee also finally learns that Dae-Oh is her father.
Episode 13 – After Han-nee finds out that Dae-Oh is her father, she is furious at Ae-jung for not telling her sooner. Ultimately, Ryu-jin pulls through. Ryu-jin tells Hae-nee all about her parents in college and how Dae-Oh never abandoned her because he never knew about her. Ae-jung reconciles with Ryu-jin.
Ryu-jin finds out about Ah-rin's past and why she was so obsessed with Dae-oh. Ah-rin – hurt that Dae-oh still wants to be with Ae-jung – decides to pull out of the film with Yoon-woo's mother's blessing. At the school sports event, the Hong Kong gangsters abduct Dong-chan, Hae-nee and Ae-jung. The gangsters demand the object Tang Zi Yi gave to Koo Pa-do before her death. Koo Pa-do pursues them, Dae-oh and Yoon-woo follow.
Episode 14 – Dong chan's mother (Ae-jung's doppelgänger) was Koo Pa do's only friend while he was a minion for her abusive husband's gang. The gangsters who abducted Ae-jung, Dong-chan and Hae-nee, are under the order of Dong-chan's paternal uncle. It is revealed that Dong chan's uncle murdered Tang Zi Yi and framed Koo Pa-doo.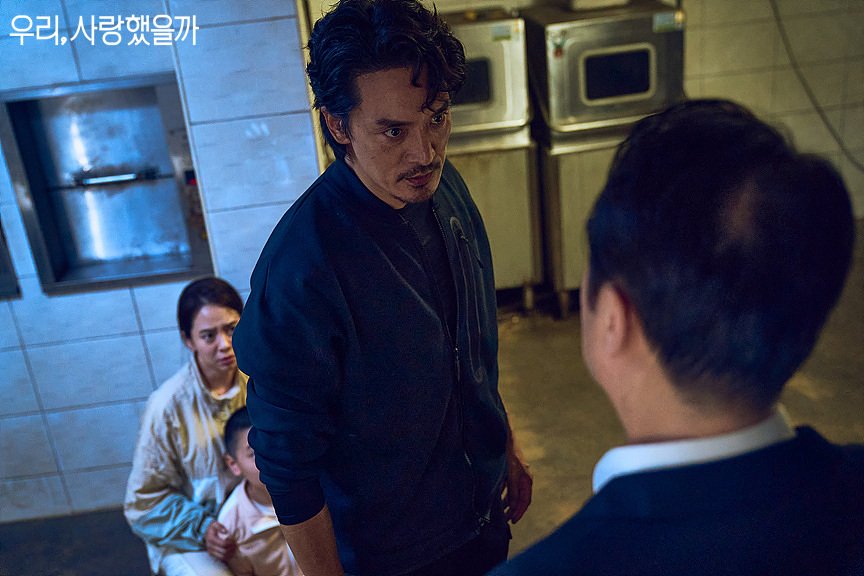 Koo Pa-do and Dae-oh pursue the gangsters to save Ae-jung, Hae-nee and Dong-chan. In an epic fight, Koo Pa-do saves Dong-chan (and they have an incredible heart-to-heart, where Dong-chan cannot get over how much Koo Pa-do loves him despite him not being his biological father). Dae-Oh sacrifices himself to protect Hae-nee and ends up in a coma.
Episode 15 – This episode is another filler. Yoon-woo explains to his mother why Ae-jung is so special to him – she was there for him during his darkest moment. Ryu-jin and Ah-rin get closer and she decides to continue filming the movie. Ah-rin stands up for Ryu-jin in front of Ms Song and he does the same for him.
Koo Pa-do teaches Dong-chan and Hae-nee's bullies a lesson by taking them out for a nice lunch and telling them words are a lot more hurtful than being stabbed, shot or axed. Dae-Oh and Ae-jung spend day together reliving their college romance while Ms Song leaks that "Love is Non-existent" was based on a fake story and reveals Dae-Oh's identity.
Episode 16 – Despite Hae-nee giving Dae-oh her blessing, Dae-oh leaves them following the leak. Although "Love is Non-existent" falls through – Ae-jung produces another film starring Ah-rin and Ryu-jin (who still have budding feelings for one another) and it is a great success. Ryu-jin makes peace with Ms Song and even thanks her for training him at the beginning of his career. Koo Pa-do is more involved in Dong-chan's life and encourages him to confess his feelings to Hae-nee. Yoon-woo's mother also decides to stop controlling him and starts getting involved in his life by doing things he likes to do (like learning how to cook). Two years later, Dae-oh reappears with a new hit book and apologises for vanishing a second time. Dae-oh and Ae-jung reconcile.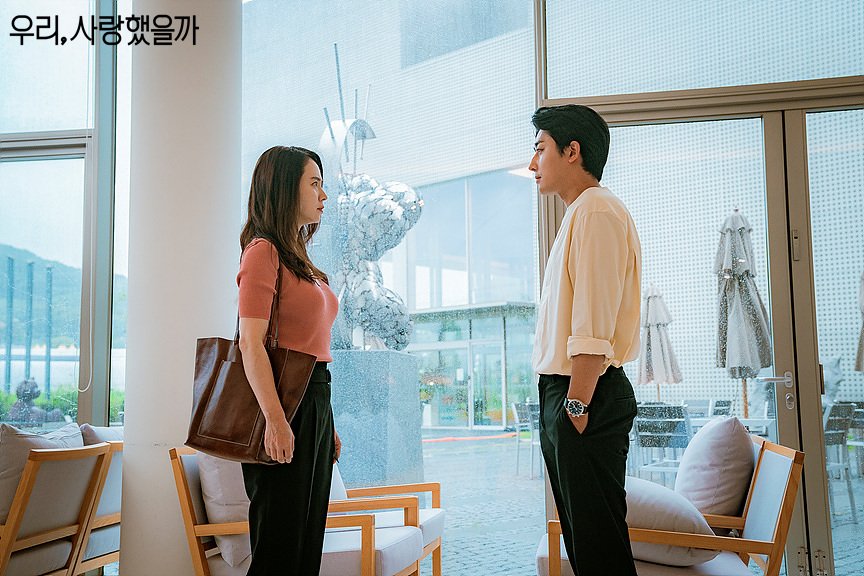 The epilogue is of Hae-nee and Dong-chan's wedding with our four leading men supporting them. I loved this ending. Although super cliche, I thought it was so well portrayed – the part I loved the most was the parent-child conciliation, especially Koo Pa-do with Dong chan and Yoon-woo and his mother. The thing that confused me a little (and I wasn't super thrilled about) was how Dae-Oh left and came back. I thought that was a bit selfish. I mean I get he wanted Ae-jung to have her own success but still… 16 years not supporting your daughter is a bit much. Other than I thought it was a great episode and have since watched it many times.
What did you think of Was it Love?